We ladies often have a tough time packing light. We want to look fashionable, but we don't have a lot of space to pack everything. This travel packing list will help you pack only the clothes and accessories that you need — while still looking fashionable. It can be tough, but it isn't impossible if you follow this packing guide.
This guide doesn't only focus on fashion… we also give recommendations on travel accessories, toiletries, electronics, and other items that will help you get the most out of your travels! This guide is geared toward travel in Europe, but the principles are universal for all international travel.
HEY DUDES! Check out our Men's Packing List for Backpacking Europe — it is a similar guide to this one, but the suggestions are geared toward guys.
---
Women's Travel Packing List for Europe Outline
Advice About Fashion and Packing Light
Clothing
Travel Accessories
Toiletries
Electronics for Travel
First Aid Items
What Not to Bring
---
The Benefits Of Packing Light
Packing light isn't easy but the benefits of traveling light are immense. It allows you to travel more freely and easily.
You might not realize it now, but you're going to encounter crowded public transportation (with lots of stairs), bustling cobblestone streets, small trains/planes, narrow hallways, staircases, and a wide range of other stressful situations — all of which make traveling with a lot of stuff extremely difficult.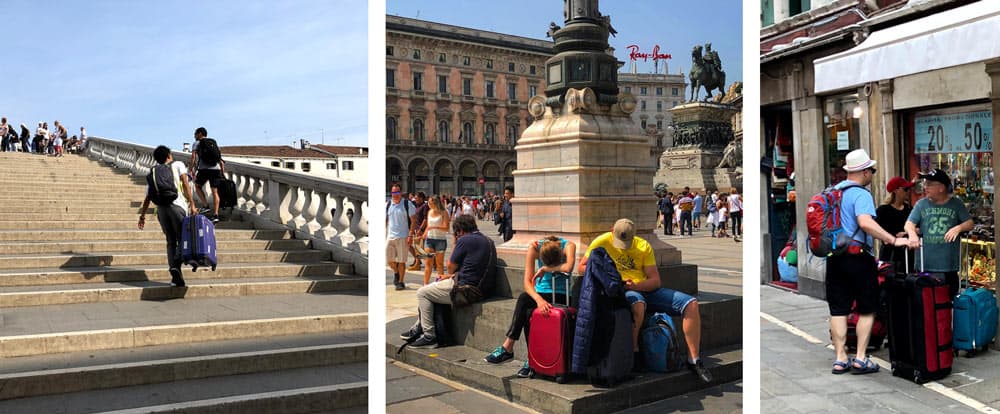 We've seen so many travelers who've packed so much that they needed someone to help them stand up when they put on their backpacks. At this point, your bag is just an anchor. To avoid this, we suggest limiting yourself to around 20lbs of gear if you're backpacking.
---
Tips for Choosing Clothing for Travel
Mix & Match Your Colors and Styles: The key to being fashionable and packing light is choosing clothes that are versatile. Everything you bring should look good when paired with any other article of clothing you have.

In short: Ideally, you should be able to blindly pull out any top and bottom from your bag and pair them together. If you can't do this, you should reconsider what you've chosen.

Simple Colors: In general, I try sticking to earth tone colors because they hide dirt/stains better — but this is just personal preference.
Choose Low Maintenance Clothing: Make sure the stuff you bring doesn't have special washing instructions — like dry-clean only.
Wrinkle-Resistant Fabrics: While it's not always possible, I try to find fabric that is wrinkle-resistant to help me look somewhat put together. Using packing cubes also helps reduce the wrinkles.
Forget the 'Single Use' Items: That super cute dress that you'll probably only wear one night should be left behind. Instead, bring something that can be dressed up or dressed down since it's more versatile. A good guideline is that if you aren't going to wear it at least three times, then you shouldn't bring it.
Fashion Accessories: A lightweight scarf is an easy way to change up your wardrobe. Plus, European women love scarves, so it's a great way to look like a local.
Bring a Smaller Bag/Backpack: You can only bring as much as your bag can hold, so force yourself to bring less by buying a smaller backpack.
Buy Clothes in Europe: The shopping in Europe is amazing; you can always buy more clothes when you travel.
For more great European fashion tips, visit our guide to dressing like a European.
---
Travel Clothing
Note About "Travel" Clothing: A lot of brands are starting to offer clothes designed specifically for travel (durable fabrics, wrinkle-resistant, quick-drying, etc.). In the past, "travel clothes" were ugly and unflattering (they were designed for hiking and not urban travel) but companies are finally starting to actually make fashionable travel clothes.

These days, the main issue with fashionable travel clothing is the high price. In this guide, we'll point out some of our favorite brands but don't feel like you absolutely need travel clothes — they're more of a luxury than a necessity.
Here Are Some Travel Clothing Brands To Check Out:
Athleta: Athleta has really stepped up their travel clothing and they have a lot of solid options. Some of their offerings feel like yoga clothes but there are some non-yoga choices as well.
Lululemon: Lululemon has a number of good travel clothing options. Again, many of their options look a little too "athleisure" but there are some nice looking choices.
Prana: Prana is a company that has traditionally made outdoorsy clothing but they've recently started making more fashionable items.
Anatomie: Anatomie has a bunch of higher-end clothing that looks really nice. Stuff from Anatomie is expensive but it's one of the few companies making travel clothes that also look great.
Uniqlo: Uniqlo always has a few great travel clothing options that are friendly on your bank account. Their stock is always changing so be sure to check them out.
Shirts, Tops, & Dresses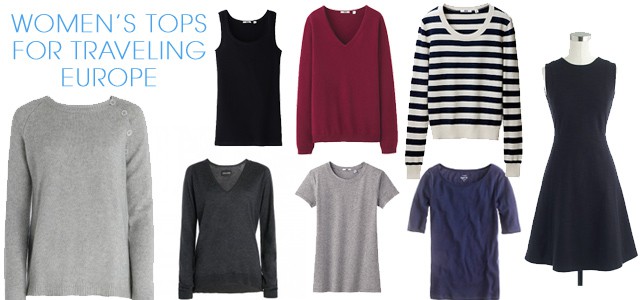 Here are some general guidelines to think about when packing your tops:
Three or Four Shirts: I recommend a mixture of both short and long-sleeve tops. Make sure to check the weather for when you're traveling since it will dictate which type of top to bring. Long-sleeve shirts are more versatile since the sleeves can be rolled up if it gets warm.
Light Sweater/Cardigan: Even in the summer, it's nice to have a sweater or cardigan if it gets cold. You might want something a little warmer if you're going to colder climates. These are also good for layering with other tops when it's cold.
One or Two Dresses: Look for a lightweight dress that can be worn casually during the day, but can also be dressed up if you go out at night.
T-shirts and Tank Tops: Pack a few t-shirts or tank tops for hot days, to use as undershirts, and for wearing in the hostel.

I like the ExOfficio Lacy Shelf Bra Cami to use as an undershirt or to sleep in. It is super lightweight and breathable and it will air-dry overnight, so it's easy to wash in the sink.
Jeans, Pants, Skirts, & Shorts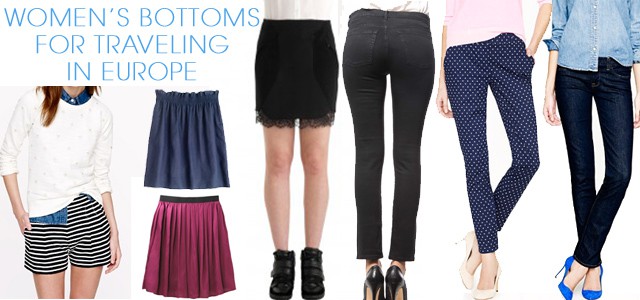 Dark Skinny Jeans or Trousers: Jeans are universal and everyone in Europe wears them. Dark jeans are perfect because they look great during the day and they can be easily dressed up for going out at night.

Skinny jeans are in fashion and are probably the safest bet. Additionally, a pair of lightweight trousers is also a nice option since they still look classy and they're a bit more comfortable in the summer.

Skirts: Skirts are perfect for travel — they're cute, comfortable in the summer, and super packable since they take up very little space. I'll usually pack two or three skirts in the summer.
Shorts: I prefer wearing skirts when it's warm but I fee like shorts are still a perfectly fine option. If you do wear shorts, I recommend bringing a fashionable and well-fitting pair (i.e. nothing sporty/athletic)
Underwear and Socks

Underwear: I always tend to overpack underwear because I'm lazy and don't like to do laundry. Typically I bring 6-10 pairs.

I really like the ExOfficio Underwear. They aren't sexy, but they are amazing for traveling because they're super breathable and they dry very quickly. I just wash these in the sink and then they're dry the next day. They also have anti-odor properties so you can get away with wearing a pair for more than one day. ExOfficio offers multiple styles. They are a bit expensive, but they are a favorite among experienced travelers.
For a more in-depth article about travel underwear, check out our favorite travel underwear!

Bras: Bring three or four comfortable bras. A lot of travelers I've met also recommend bringing at least one quick-drying sports bra.
Leggings and Pantyhose: Sheer pantyhose are super fashionable in Europe. They are a great way to add a little sex appeal to an outfit. Leggings are also fashionable and don't take up any space in your luggage.

Thermal Underwear: These are optional, and you'll only need them in the winter. Amazon has a wide range of thermal underwear for women that will all work well. The main thing you want to avoid is cotton — so look for something made out of a synthetic material or merino wool.

Socks: Quality socks are super important. Trust me on this. Nice socks can get a little pricey but I highly recommend buying a few pairs. The best socks are made of fine merino wool — yes, you can wear lightweight wool socks in the summer because they will keep your feet cool and sweat-free. Synthetic blends can also perform well. When buying socks, look for the following criteria:

Moisture-Wicking: Your feet will sweat a lot (especially since you'll be doing a lot of walking), so you want a sock that draws moisture away from your feet. Keeping your feet dry helps eliminate odor and stops the formation of painful blisters.
Quick-Drying: It is pretty easy to wash your socks in the sink, so you want a pair that will dry overnight (about 6 hours).
Odor-Eliminating: Some synthetic socks have special anti-bacterial features that help eliminate odor. Lightweight wool socks will also do this naturally (lightweight wool can also work well in the summer).
Avoid Cotton: Cotton socks soak up moisture and won't dry well once wet. They will also start to smell very quickly.
Recommended Sock Brands
SmartWool Socks: I love my SmartWool socks. I wear them all the time. They have a wide range of socks available (from lightweight to heavyweight). SmartWool also makes Hide and Seek Socks and Secret Sleuth Socks which are great "no show" socks.
Darn Tough Socks: Made in Vermont, this brand of really nice socks will last for years. They get great reviews.
Wigwam Socks: Another quality brand that is worth checking out.
Thorlo: Thorlo makes quality socks that aren't too expensive.
For a more in-depth article about the wonderful world of socks, check out our favorite socks for travel.
Shoes for Travel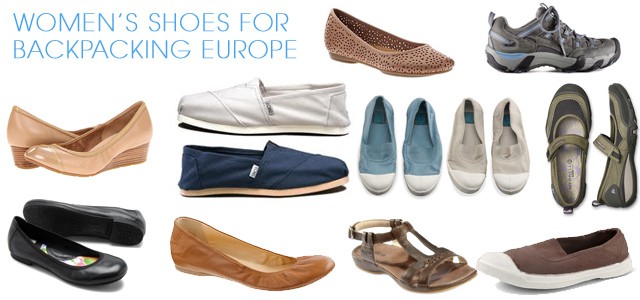 Choosing which shoes to pack causes more stress than another item of clothing so don't worry if you're struggling as well.
If you can, we suggest limiting yourself to two pairs of shoes if you're trying to pack light. Ideally, you should only pack one pair but that's pretty tough, and not many people choose to do that.
Comfort is key. Your feet are going to take a beating so you truly want shoes you can wear for hours and multiple miles. If you can't comfortably walk in your shoes for over three hours, you shouldn't bring them.
I stick with cool sneakers — plenty of Europeans wear sneakers so you won't feel out of place (unless you pack athletic running shoes.)
A cute pair of comfortable sandals are also a good option if you travel in the summer. Sandals are also nice because they are generally lightweight and easy to pack.
If you're less concerned about fashion, then waterproof hiking shoes are a good option. These are nice because they're comfortable and you don't have to worry about wet feet. They are most likely unneeded during the summer when rain is infrequent, but you might consider them for travel during the spring/fall/winter since rain is common during these seasons.
Bring a cheap pair of rubber sandals for hostel showers (who knows what goes on in there…). They are also nice if you visit the beach.
But what about that sexy pair of high heels? Honestly, I'd leave them at home. You really don't need them, but if you do bring them, make sure they are comfortable enough to walk in. A wedge shoe will make it easier to walk on cobblestone but they are heavy. I brought a pair on my first trip and I think I only wore them one night.
For a more in-depth guide to finding the best travel shoes, check out our guide to cute and comfortable travel shoes and I have a new guide to the best travel shoes for women.
Looking for winter boots? Check out our guide to the Best Waterproof Boots for Women
Jackets and Rain Gear

For summer travel you probably don't need rain gear for it's smart to bring a rain jacket for the rest of the year. That said, a light jacket will still come in handy all year long (even some summer nights might get a little chilly). Below are a few jackets to consider:
Fleece Jacket: Fleece is a great material because it provides a lot of warmth without adding bulk.
Rain Jacket: A lightweight rain jacket can be thrown into the bottom of your bag so it doesn't take up much room. Personally, I'll layer a light rain jacket on top of fleece as opposed to packing a heavy rain jacket. That said, you probably don't need a rain jacket during the summer.
Softshell Jacket: A softshell jacket is basically a nice compromise between a fleece and a rain jacket. A softshell isn't completely waterproof but it will repel 95% of the rain you come across. Unlike a true "rain jacket", a softshell is much more breathable so it will let moisture/sweat escape. This is much more comfortable than a balmy rain jacket. A softshell jacket isn't quite as warm as a fleece jacket but it will still provide a lot of warmth.
Other Accessories
Sunglasses: Try to find something fashionable, but I wouldn't bring an expensive pair because glasses are easy to break/lose — especially when traveling. During my last trip, I used cheap $15 "designer-inspired" glasses you find at those kiosks at the mall. If you do bring sunglasses, make sure you bring a hard case for them so you can just throw your glasses in your bag.
Scarf: A scarf is a staple of any European wardrobe. These make great souvenirs, so you can always buy one or two during your travels.
Sarong: A sarong is a versatile accessory that can be used as a wrap, shawl, scarf, light blanket, and a picnic blanket.
Purse or Small Backpack: You'll want a small backpack or purse that's large enough to carry just the essentials (camera, notebook, light sweater, etc). If you bring a purse, it should have a zipper, and the backpack should ideally have lockable zippers.
---
Travel Accessories
There are all kinds of helpful travel accessories that will make traveling easier and more enjoyable. Below are a few of our favorite accessories:
Travel Backpack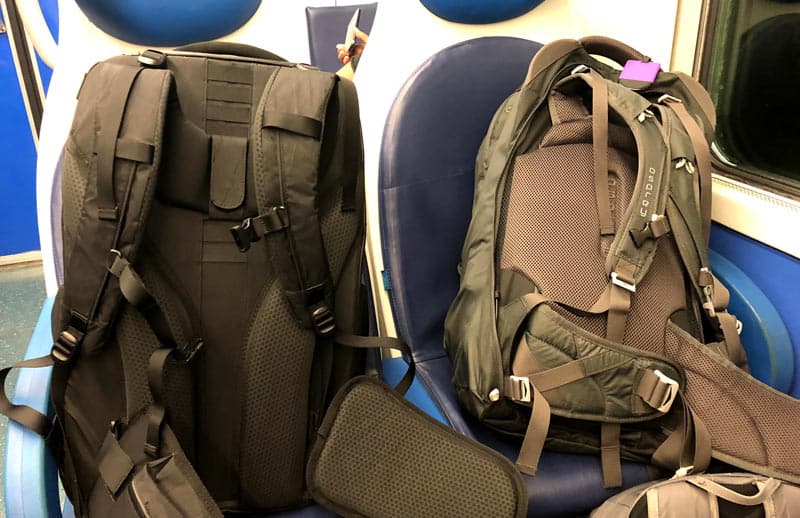 We're huge fans of traveling with a travel backpack — it makes navigating Europe much easier. We've tested out well over a dozen of the most popular travel backpacks and these are our favorites:
Want to learn more about travel backpacks? Read our guide to choosing a proper-fitting travel backpack and our list of the best travel backpacks.
Daypack

You can't carry around your main travel backpack all day, so you need a smaller daypack. You'll use the daypack to carry around the basics that you'll need throughout the day — your camera, maps, guidebooks, notepad, snacks, etc. We've compiled a list of our favorite fashionable daypacks for Europe that we suggest checking out.
Packing Cubes & Organizers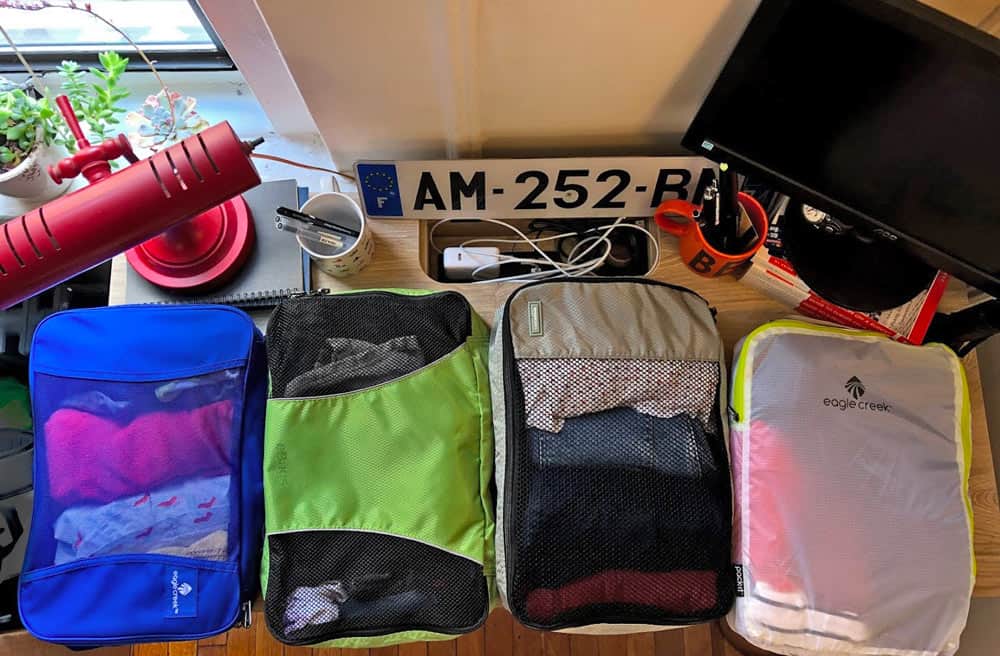 The best way to keep your clothing organized and wrinkle-free is by using packing cubes. I was very skeptical about using packing cubes but I can't travel without them anymore — it makes living out of a backpack so much easier.
I use Eagle Creek Packing Cubes (available on Amazon) and Eagle Creek Packing Sleeves (available on Amazon). For more information about how to use packing cubes (or how to properly pack your backpack), check out our guide to properly packing your backpack.
Learn More: The Savvy Backpacker Guide to the Best Packing Cubes.
Quick-Drying Travel Towel
Traditional cotton towels are always an issue when traveling because they're bulky and take forever to dry. Furthermore, many hostels don't provide towels or they charge extra. That's why we recommend bringing a travel towel.
Unlike cotton towels, travel towels are designed to be lightweight, absorbent, and will dry overnight (cotton towels might take 24+ hours to dry.
We recommend checking out Amazon as they have a nice selection of different travel towels but our favorite brands are Sea To Summit, PackTowel, & Rainleaf,
Note: Many travel towels are much smaller than normal towels so pay attention to the dimensions. If you have long hair you might want to bring two — a large for your body and a medium-sized towel for your hair.
Mini Keychain Flashlight
A mini keychain flashlight is perfect for those nights when you return to your hostel dorm room late and you don't piss off your roommates by turning on the lights at 3 am. I also feel safer when I'm out at night if I have a flashlight so I always have one with me.
The Streamlight 73001 Nano Light Miniature Keychain LED Flashlight is a great flashlight that is bright and tiny (seriously, this thing is tiny but it puts out a ton of light). I keep it in my bag whenever I go out.
Ear Plugs & Eye Mask
People in hostels will snore. — there is no doubt about it. Hearos Ear Plugs are cheap and effective. Additionally, you might want an eye mask for sleeping because people will be coming and going in the hostel room at night.
Small Notebook
Keep a small notebook with you as you travel so you can jot down notes, train times, addresses, restaurant recommendations, and other travel tips you come across while on the road. I also use a notebook to keep track of my spending. And, after your trip is over, the notebook ends up being a nice little souvenir.
Any notebook will do but I prefer one with a hardcover for durability — I use a classic Moleskine notebook (via Amazon).
Travel Sleep Sheet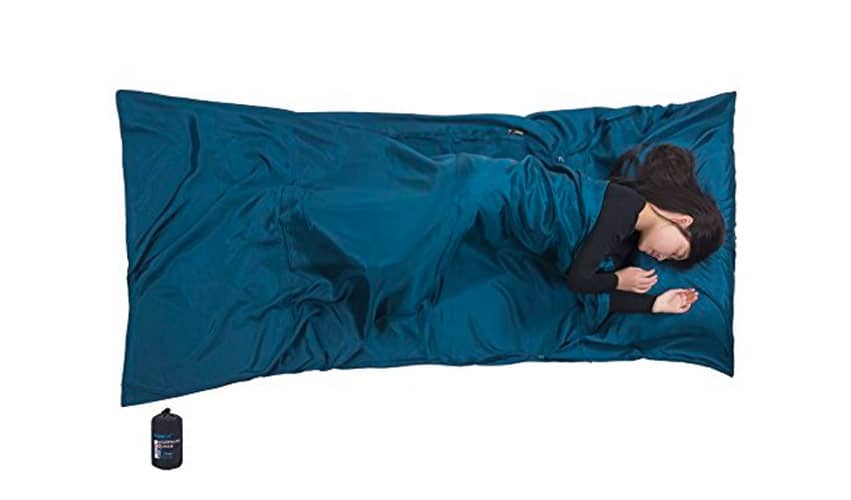 Not every hostel does a great job of cleaning their sheets so you might want to bring a cotton Sleep Sheet. Cotton can get a bit bulky but Silk Sleep Sacks feel luxurious and they lightweight/compressible.
Personally, I don't pack a sleep sheet but I can see why people like them.
Flexible Water Bottle

Flexible water bottles are lightweight and hardly take up any room in your pack. I prefer these to the common "Nalgene" bottles because these take up much less space.
Laundry Stuff
If you plan on ever washing your own clothes in the sink, you'll need a travel sink stopper. Woolite Travel Laundry Soap or Travelon Laundry Soap Sheets are handy for hand washing laundry in a sink.
For drying, a rubber braided clothesline is great because it doesn't require any clothespins — just stick the clothes through the braids.
Tide To Go Stain Remover Pens are handy for removing stains from clothes. I just threw the pen into my bag and I ended up using it often. Alternatively, these individually wrapped Shout Wipes also work really well.
Padlock

Some hostels have padlocks for rent, but it is easier to bring your own. I prefer the type that allows you to set your own combo because the code is so much easier to remember — especially after a few drinks (but they are a little more expensive). Master Lock Set-Your-Own-Combination Padlock is a great choice.
Retractable Cable Lock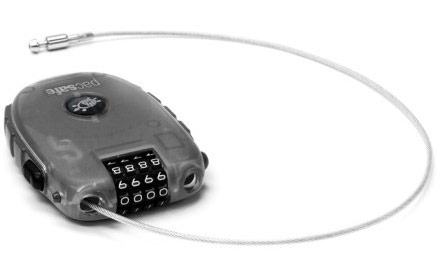 A retractable cable lock is essential for locking your backpack to your bunk/luggage rack. It will deter someone from running by and grabbing your bag from your dorm or train car. I used mine all the time, and I'm glad I brought it.
Digital Luggage Scale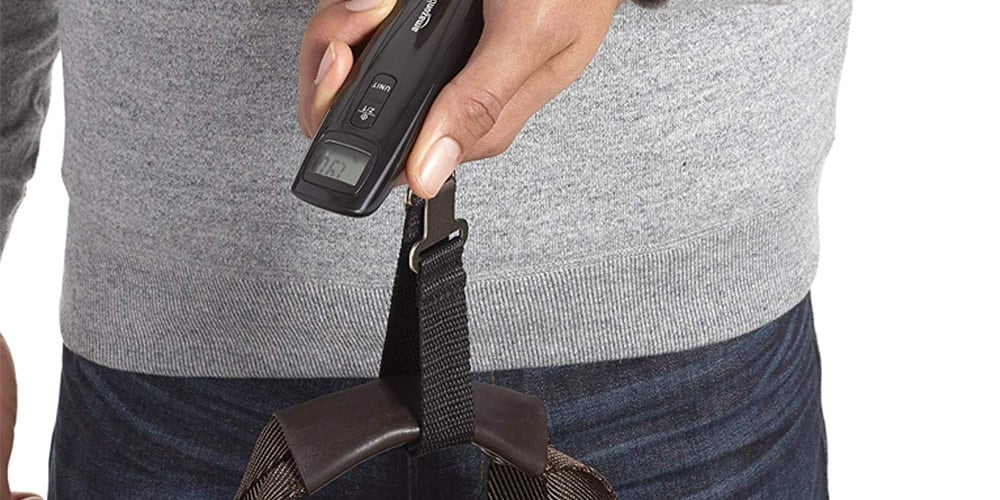 If you plan to only carry on your luggage, you might want to get a digital luggage scale to ensure your bag is under the airline's weight limit — especially if you purchase things as you travel.
Money Belt
Many European cities are filled with pickpockets so a money belt is a good way to protect yourself. The standard money belt is worn around your waist and under your clothes. Another option (which I feel is more practical) is a neck pouch money belt.
Personally, I never liked wearing a money belt so it's up to you to decide if you feel like you need one.
Travel Umbrella
Trying to find an umbrella in an unfamiliar city isn't any fun. I suggest buying a travel umbrella before you leave.
Plastic Utensils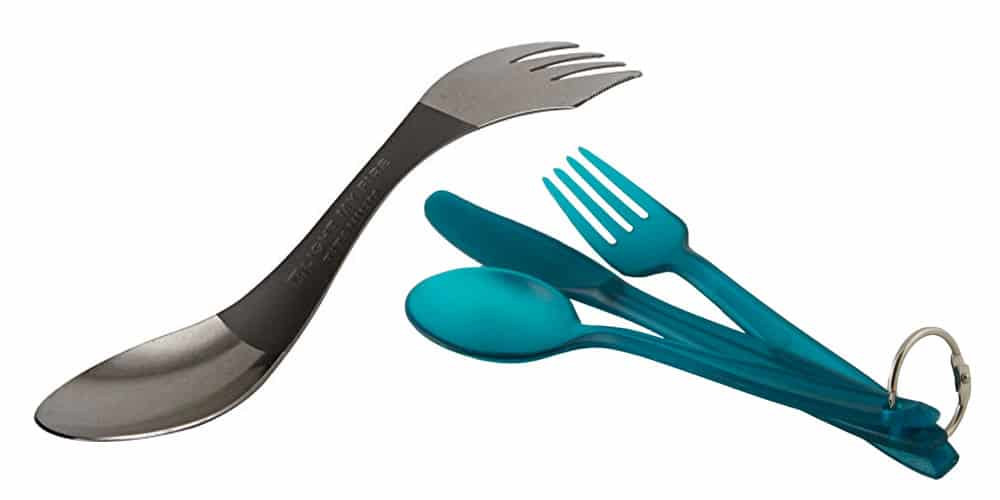 Plastic travel utensils are a handy travel accessory. They are great if you want to grab a cheap lunch at a grocery store or you want a picnic in the park. If you want to be a true baller, then check out this titanium spork.
Lint Roller
Lint rollers will help keep all that lint off your dark clothes.
Ziploc Bags
I pack a few quart-size and gallon-size Ziploc bags because they are great for holding damp or dirty clothes. Ziploc also makes a large 3-gal bag that is nice for storing an extra pair of shoes (so you don't get your clothes dirty). I also recommend putting your liquid toiletries in a plastic bag so you don't have an accidental spill.
Copies Of Important Documents
Make a few copies of your passport and other important documents just in case you lose them. Keep a copy of your passport in your bag. Additionally, you should make digital copies of all your important documents and email them to yourself so you can access them if needed.
---
Electronics Packing List
Read our guide to traveling with electronics for more in-depth advice about using electronic devices abroad.
SIM Card For Cheap Mobile Data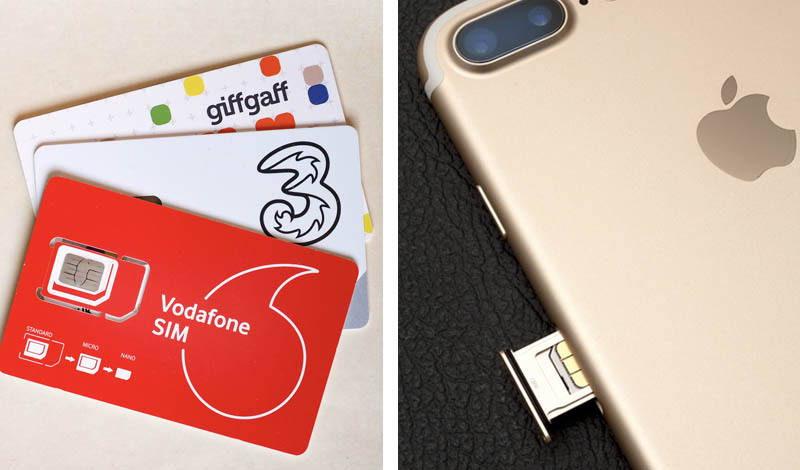 The cheapest way to get mobile data for your phone is by using a European SIM card — this is much cheaper than using your home carrier's International Mobile Data plan.
You can read about my guide to using smartphones and data plans in Europe but I recommend buying your SIM card from SimOptions.com.
Travel Power Strip

Power outlets are a hot commodity in most hostels. It isn't uncommon for there to only be two outlets in a room with 10+ people. A travel power strip can be a lifesaver when you need to charge/power all your devices. Plus, you'll make a lot of friends when other people can plug into your power strip.
Amazon has multiple options but I prefer one that also has a USB — this Belkin SurgePlus USB is a popular option.
Dual Voltage Travel Hairdryer and Straighteners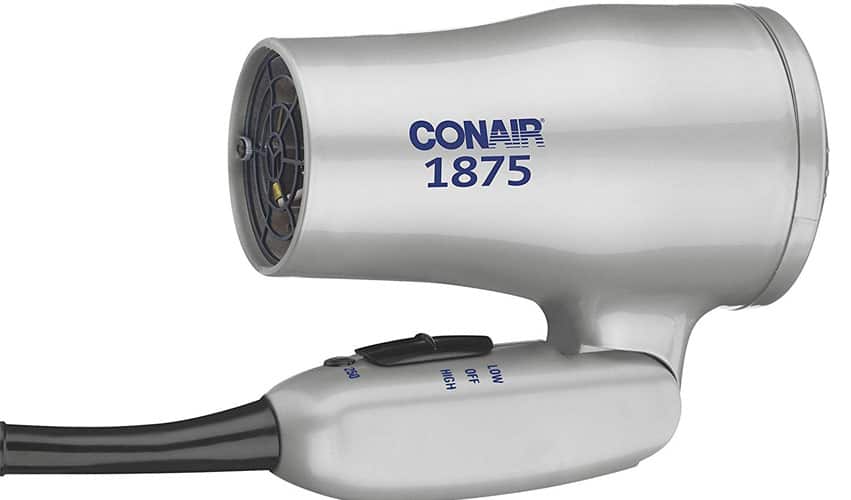 North American hair dryers won't work in Europe — even if you have a voltage adapter. You'll need a dual voltage hair dryer (there are many available via Amazon). If you plug a standard hairdryer into a European outlet, it will fry since European voltage is twice as high as in the US or Canada. If you straighten your hair, you'll also need a dual voltage straightening iron.
Portable Battery Pack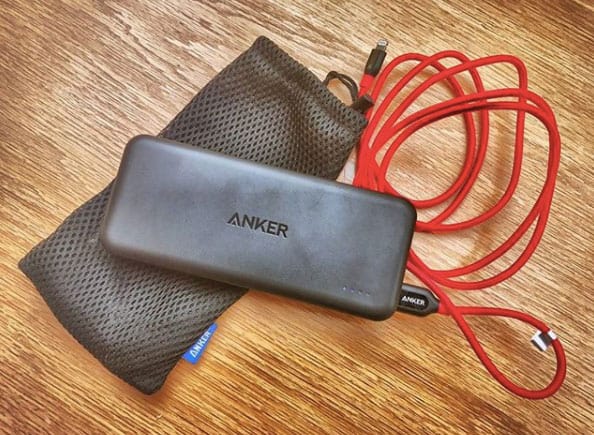 I use my iPhone all the time when traveling so my battery is about drained by lunch so a portable battery charger is a must-have travel accessory. I use Anker PowerCore 10000 because it's tiny and affordable.
Digital Camera
Read our guide to picking the best digital camera for travel. Don't forget the extras…
Extra Memory Cards: Be sure you have plenty of high-capacity memory cards. One of the worst things is running out of space.
Extra Battery: Buy an extra battery or two from Amazon. I got two super cheap 3rd-party batteries from some random seller in China, and they were extremely helpful on my trip.
Laptop or iPad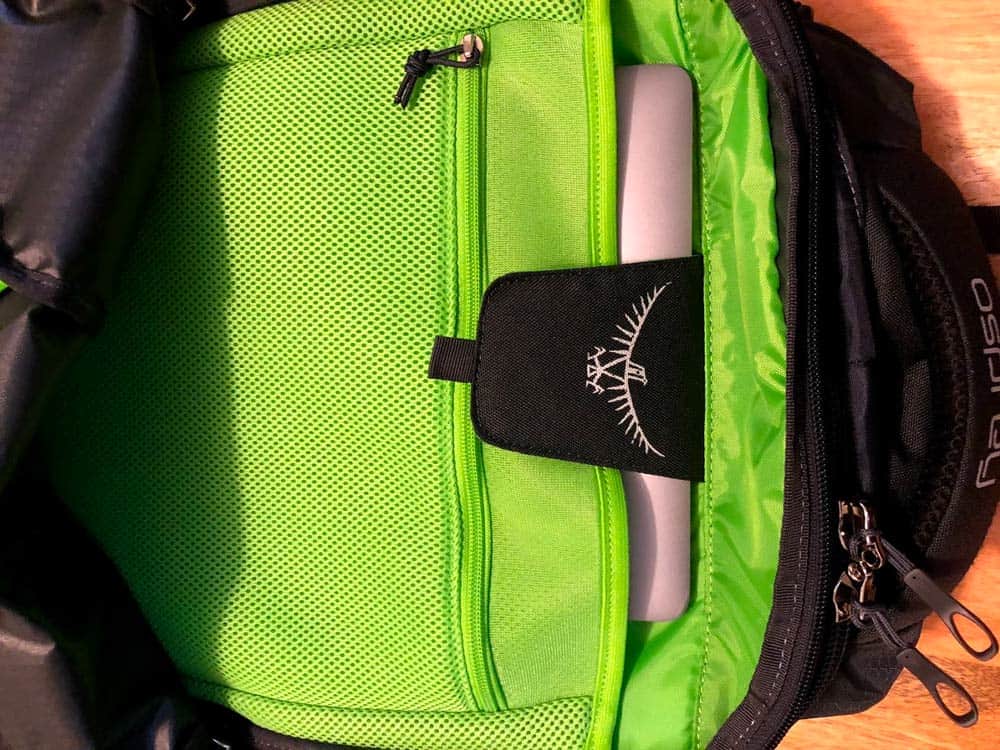 Traveling with a laptop is kind of a pain but having a computer comes in very handy. That's why I travel with my iPad — it's great on planes and it's super light so I can easily throw it in my bag. But, if you do need a laptop, make sure it's something lightweight like the MacBook Air.
Smartphone
A smartphone is a great travel accessory but make sure you know about international roaming so you don't accidentally rack up a huge bill.
Read our guide on Using Smartphones and Data Plans Abroad for more information.
Outlet Plug Adapter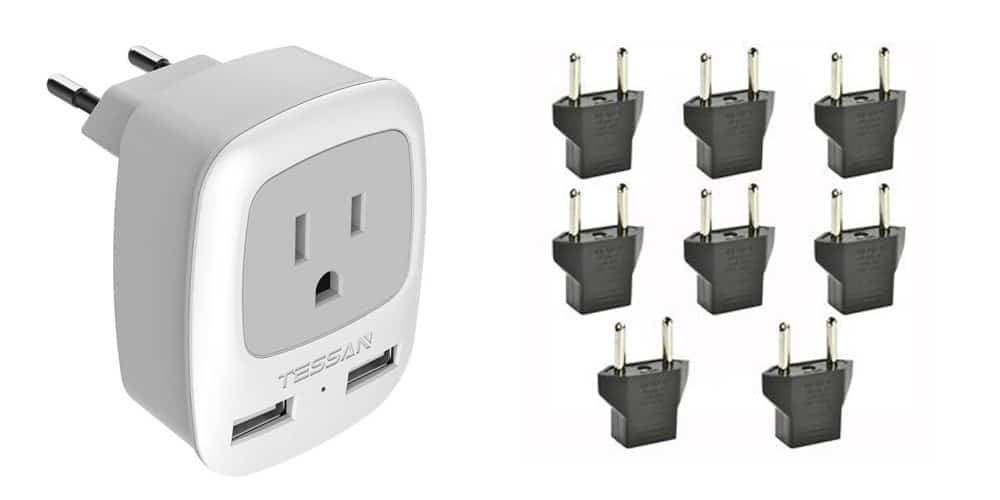 Plug adapters change the plug on your electronics to fit the outlet of the country (The U.K. and Europe are different plugs). Don't confuse these with "voltage adapters." Read the Savvy Backpacker Guide to traveling with electronics to find out the difference.
---
Travel Toiletries
It is pretty amazing how heavy all your toiletries can become. Between the shampoo, body wash, toothpaste, and everything else, it is easy to amass 5-10lbs of stuff (and most is unneeded). Honestly, most of this stuff you can buy once you arrive. Plus, I've always liked going to European grocery stores to see what they have. But if you have particular needs, you'll want to bring those things with you.
Hanging Toiletries Bag

The first thing you should get is a toiletry bag that can hang. Most hostel bathrooms are small and have no shelf space, so being able to hang up your bag is incredibly convenient.
I use the Ogio Doppler bag because it is sturdy, compact, and cheap but still has a lot of room. We also use the Eagle Creek Wallaby — it's a bit more expensive but lighter weight.
Amazon has a ton of different hanging toiletry bags so pick one up that fits your needs.
Shampoo/Conditioner/Body Wash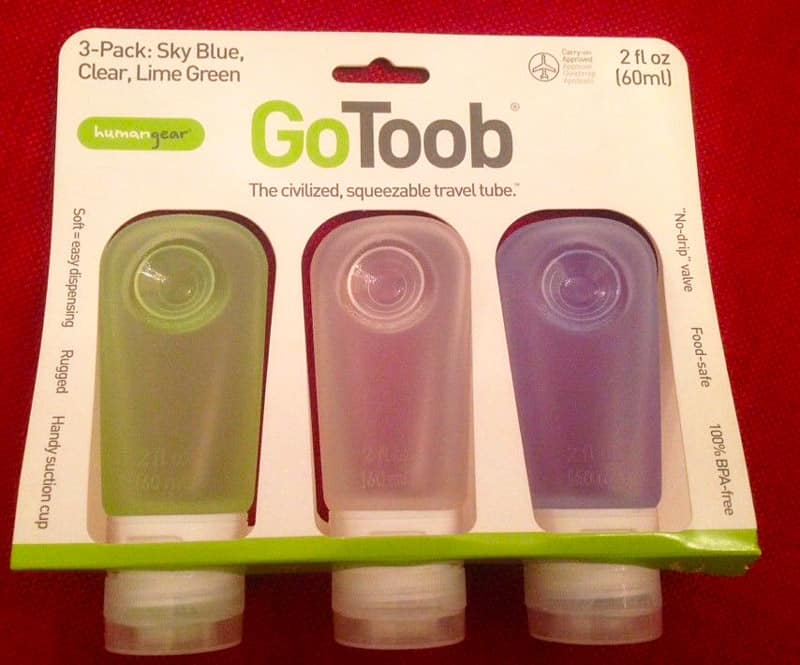 Pour the liquid into one of those small travel-sized bottles. You can always buy more if you ever need it. GoToob travel bottles get great reviews from travelers.
Dental Care

I like the Steripod Clip-on Toothbrush Sanitizer covers because they sanitize the brush while the cover is on. I'm not sure how this scientific voodoo works, but it does. Or you can just get a normal toothbrush cover.
As far as your toothbrush, I recommend using a normal toothbrush.
Shaving Stuff (Razors & Cream)
I normally bring a few disposable razors and a travel shave cream. I buy more supplies as needed as I travel.
Deodorant
I've found that deodorant in Europe is formulated differently than in North America. Maybe it is all in my head, but it seemed like it took my body a few weeks to get used to the new formula. You might want to bring your own if you don't want to chance it.
Chapstick with SPF
Make-out sessions are no fun with sunburned lips.
Contact Lens/Solution/Glasses
Contacts can be a pain, especially in polluted cities. Eyeglasses might be a better choice.
Makeup & Skincare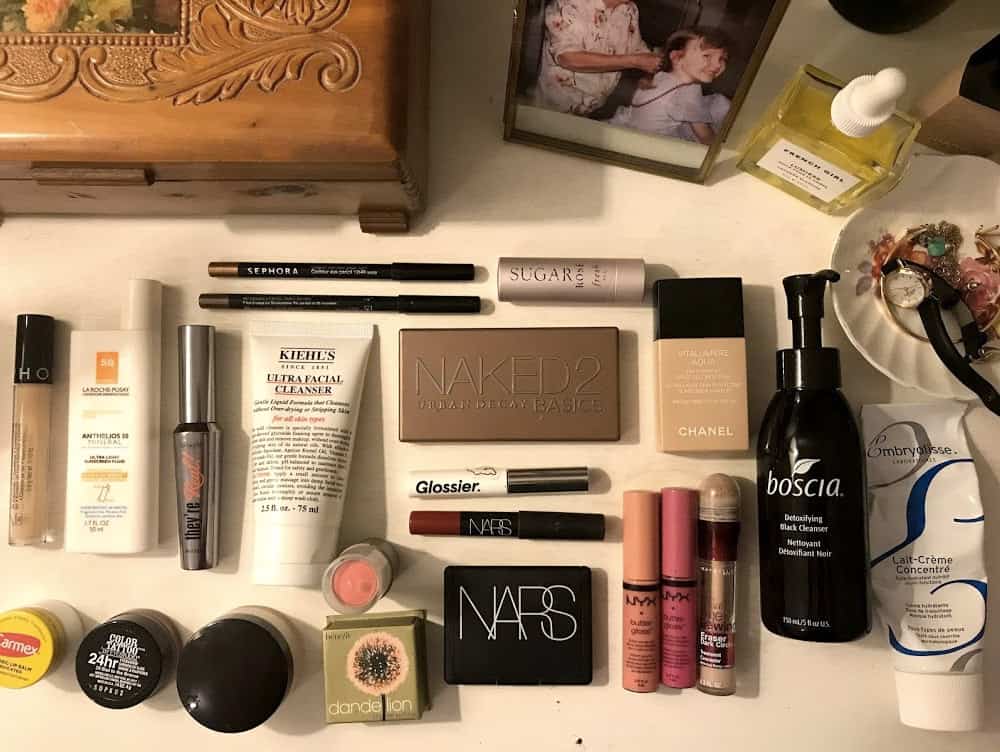 When I lived in Paris, I noticed that women there didn't wear nearly as much makeup as Americans do. That's why I recommend sticking to the basics:
Bright red lipstick: Parisian women seem to never leave the house without sexy lipstick. You can also use lipstick as blush.
BB Cream: BB Cream is a great 'all-in-one' product. It is a moisturizer, contains sunscreen, provides light coverage as a basic foundation, and evens out skin tone.
Mascara: Mascara should be changed every three months so this is a great excuse to buy a new bottle.
Cream Blush: You really don't want to have makeup brushes in your bag, so a cream blush is a great option.
Learn More: See My Beauty Essentials For Travel
Travel Febreze/Fabric Freshener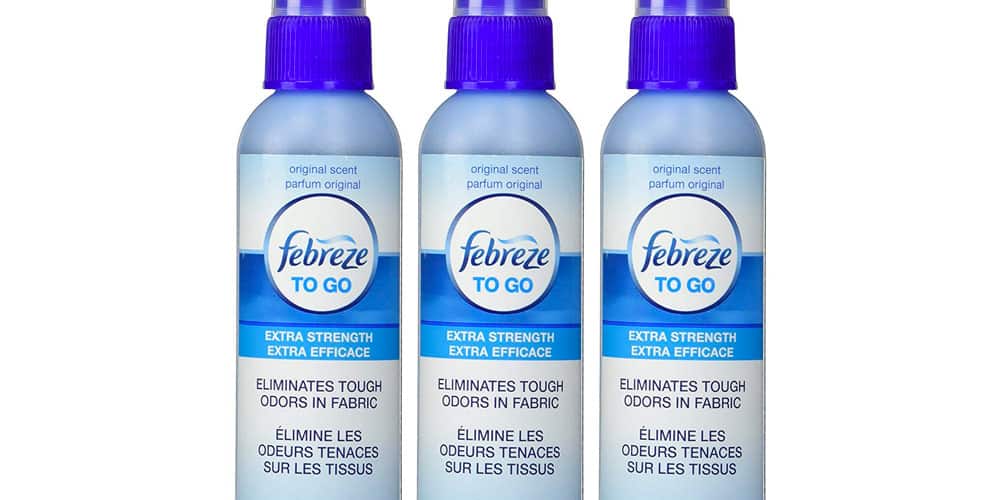 This is good for freshening up your clothes. I like the travel-sized Febreze To Go.
Travel Toilet Paper & Wet Wipes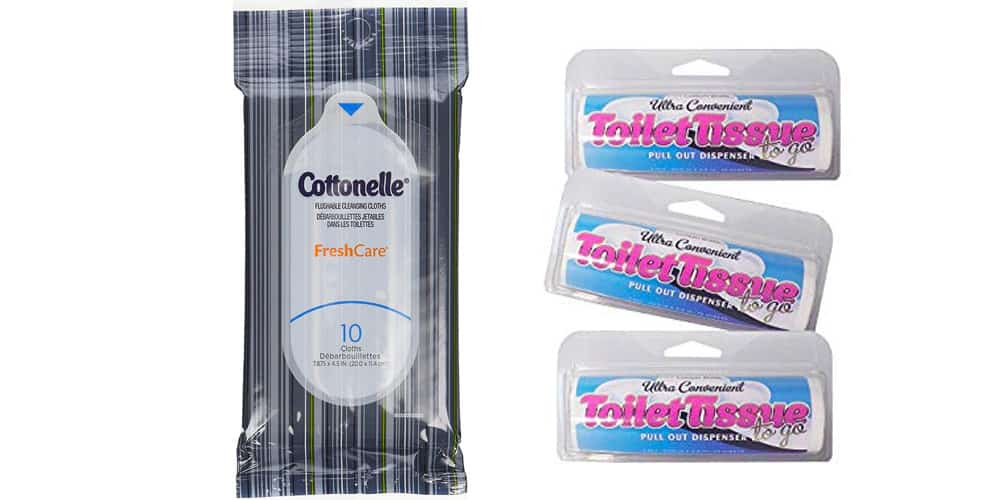 Hopefully, you won't need them but travel toliet paper and travel wet wipes can come in handy. I like the Cottonelle Fresh Flushable Wipes because they come individually wrapped so they're super easy to pack.
Hand Sanitizer
Planes, hostels, trains, subways… you're going to come in contact with a lot of people so keep yourself protected.
Perfume
Go get a few of those free perfume samples from Sephora or a department store. Don't bring a big bottle because it is too heavy.
---
First-Aid Items

I would pack minimal first-aid supplies because you can get everything easily in Europe. Just bring the very basics.
Prescription Drugs
Make sure you have enough medicine to cover your entire trip. I'm not familiar with the process of getting prescription medication overseas but I'm sure it is a hassle.
Pain Medicine
In many European countries, you can only get medicine (even basic stuff like Tylenol) from a pharmacy. This isn't really a problem but some pharmacies have limited hours so you might as well have a few pills on you before you arrive.
Band-Aids
For your widdle boo-boos. I highly recommend also getting band-aids designed for blisters as those are huge pain when you're walking so much.
Motion Sickness Pills
If you get carsick easily you might want a have something on hand.
Pepto Tablets
Help settle your stomach. The Pepto-Bismol caplets are much more convenient to carry in your bag than the liquid.
Small Pack of Tissues
These are helpful when you look at your credit card bill.
---
Things You Might Not Need
Here is a list of things that a lot of people bring to Europe but end up never using.
Sleeping Bag: Hostels will provide bedding and sleeping bags take up way too much space. So unless you are camping or sleeping on someone's floor, you don't need a sleeping bag.
Wire Mesh Backpack Theft Protection (Pacsafe): The Pacsafe Anti-Theft Bag Protector may seem like a good idea for protecting your backpack but you really don't need it — especially since most hostels provide safe places to store your bags. These might be better suited for "sketchier" parts of the world or if you are traveling with lots of expensive electronics. But for most travelers, they just add a lot of weight to your pack.
Water Filter: The water is fine in Europe. You can always buy big bottles of water at the grocery store for cheap.
Valuables: Don't bring anything that you really don't want to lose. Leave the fancy jewelry at home. Tech stuff is trickier because it is expensive but sometimes essential for travel. Use your best judgment.
---
Do a Test Run Before You Go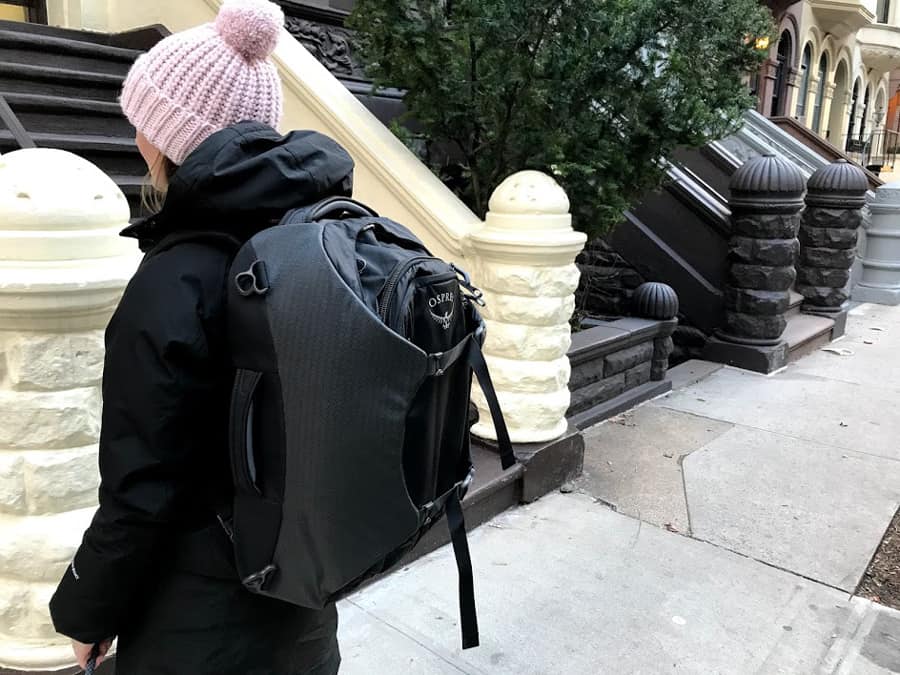 I highly recommend loading up your bag to see how heavy it is. Walk around with it for 20 minutes. You'll be surprised how heavy all your stuff can be.
You might consider repacking if your backpack is too heavy for you to haul around. Check out our guide to packing your bag for traveling in Europe.
---
Travel Insurance
We recommend picking up some travel insurance — which will help cover your travel gear, flights, accommodation, rail passes, and medical emergencies. World Nomads is our top choice [learn more about Travel Insurance].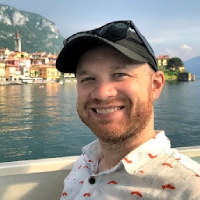 Latest posts by James Feess
(see all)
No Funny Business
The Savvy Backpacker is reader-supported. That means when you buy product/services through links on the site, I may earn an affiliate commission — it doesn't cost you anything extra and it helps support the site.
Thanks For Reading! — James
Questions? Learn more about our Strict Advertising Policy and How To Support Us.