Portugal is one of the hottest destinations in Europe and Porto is quicking becoming a favorite spot for budget travelers seeking great deals. And these low prices have turned Porto into one of the best hostel scenes in Europe so there are multiple amazing hostels (and a few to avoid). So, to help make your decision easier, I've assembled a list of the best hostels in Porto.
Average Porto Hostel Prices
Porto is still a relatively cheap travel destination so you'll find plenty of affordable hostels. Popular, well-rated hostels tend to be slightly more expensive than lower-quality hostels and prices rise during the busy travel season so book early for the best price/selection.
Shared Room Hostel Prices in Porto
A bed in a well-rated Porto hostel costs €20 to €35/per night with an average price of around €28/per night for the cheapest option in a shared dorm room. Most hostels have multiple room configurations so you'll typically pay more for rooms with fewer beds.
Private Room Hostel Prices in Porto
The price of a private hostel room in Porto range from €50 to €145/night with an average of around €90/night. A private room sleeps two so keep that in mind when calculating the price per person.
Prices constantly fluctuate, so I recommend checking Hostelworld to get exact prices for your dates.
---
Porto Hostel Considerations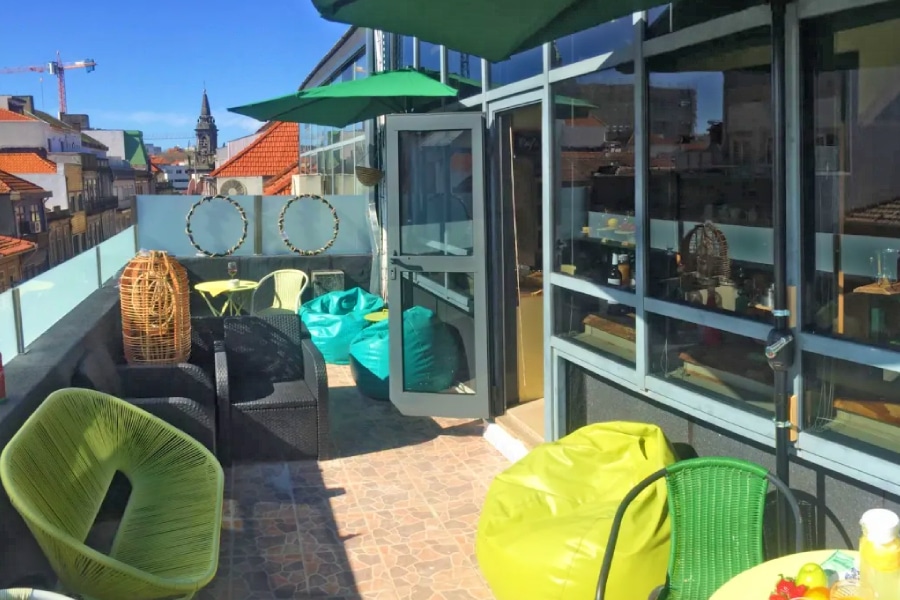 Porto has around 40 hostels and I'd consider that 14 of those hostels are great potential options. There are multiple factors to keep in mind when evaluating which hostel to book but here are a few things to consider:
Tourist Taxes
All hostels in Porto are required to charge a Municipal Tourist tax of €2 per person, per night. Some hostels will include this in the price but some will have you pay it at check-in.
The Best Hostels in Porto Go Early
The best-rated hostels and the cheapest hostels in Porto are often booked well in advance—especially in the summer and during weekends. I recommend booking early if possible.
Check The Hostel Location
Porto is a small city so most hostels are located in the center of town but there are a few outliers that are located further out. I suggest double-checking before you book to make sure your hostel isn't far from the city center.
The Hostel's Vibe
Like any popular city, Porto will have multiple hostels and caters to a subset of travelers—some have a party vibe, some have a chilled vibe, some have a quiet vibe, some feel like a hotel, some are good for families, etc.
It's best to find a hostel that fits your travel style so I suggest reading the review section of Hostelworld to see what past travelers say about the hostel's vibe.
Check-In Times and Cleaning Times
Many hostels in Porto have late check-in times (around 2 pm-4 pm) but nearly all will let you store your bags if you arrive before check-in—I recommend bringing your own padlock for a locker. Other hostels might have a period during the early afternoon when you're not allowed to be in your room so the staff can clean.
Age Restrictions
Some hostels cater to families and school groups—so book an 18+ hostel if you don't want to be surrounded by a slew of middle school kids. Also, family-friendly hostels tend to attract an older crowd so you probably won't find the typical "backpacker" experience in these places (but you might find more peace and quiet).
Read The Cancellation Policy
Each hostel has its own cancellation policy so it's something to know before booking as you might be charged for the first night if you cancel.
More Questions About Hostels?
Check out our Hostels 101 Guide to learn everything you need to know about finding the perfect hostel.
---
The Top Picks For The Best Hostels in Porto, Portugal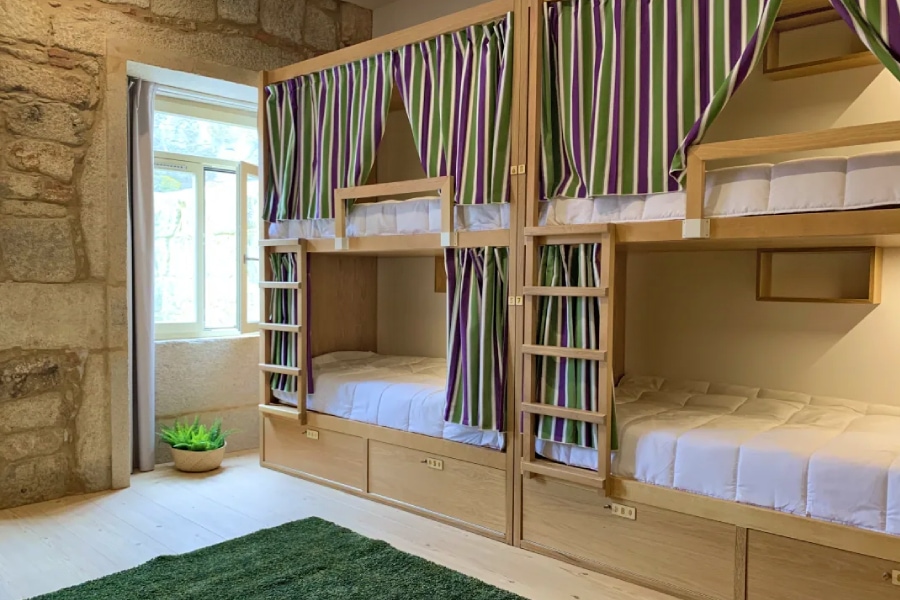 HOW I EVALUATE HOSTELS
Overall Quality: I take a holistic look at the hostel to see the positives and negatives. My goal is to find amazing hostels that are still affordable.
Location: Most hostels listed in this guide will be centrally located (but I'll make a note if it isn't)
Price: I try to filter out the super-expensive and the worst-rated hostels to help find the best price-to-quality ratio.
Vibe/Atmosphere: Every hostel has a personality. Some are party hostels and some are quiet. We try to note the atmosphere so you can find a place to stay that matches your travel style. Take a look at the reviews to get a better idea of the hostel's vibe.
Past Guest Reviews: Every guest has a different experience so we look at the good and the bad. We suggest you take a few minutes to read prior reviews.
I also encourage you to check out Hostelworld to do a bit of searching for yourself.
NOTE: All prices listed below are the cheapest option available during the busy (i.e. expensive) season. Prices will often be 20%+ cheaper during the slower seasons.
Hostel One Ribeira
Hostel One Ribeira is the best party hostel in Porto (it's also one of the best overall hostels in Porto) so it's an excellent choice for anyone wanting to meet other people. They go out of their way to make everyone feel welcome with tons of free social activities like cooking weekly family dinners, organizing walking tours, and more.
They also have a nice terrace and multiple common areas so you can find somewhere to work, relax, party, etc.
And, like any great hostel, Hostel One Ribeira has a fully equipped kitchen so you can make your own meals (plus, kitchens are always a sociable place to meet people).
Seriously, put Hostel One Ribeira at the top of your list of hostels to check out.
Price per night starts around (via Hostelworld):

€28-€40 during the week
€32-€50 on the weekend
---
Gallery Hostel Porto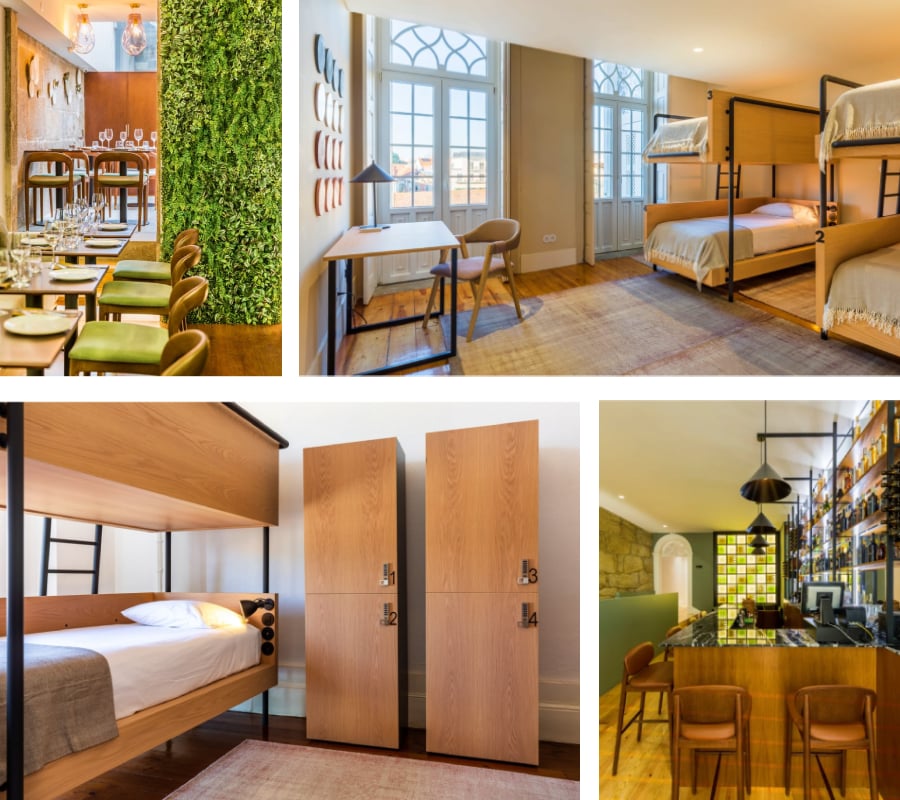 The Gallary Hostel is an ideal hostel if you're looking for a quiet, super clean, safe, and comfortable stay. It's a fairly new hostel with modern amenities, a cool boutique designer feel, and a nice breakfast—they also cool a nightly Portuguese dinner (which is around €10).
They have a nice summer terrace, winter garden, and on-site bar/restaurant.
The Gallary Hostel has a "hotel" feel so isn't the place to stay if you're looking for a social atmosphere—i.e. don't expect to meet many other travelers.
Price per night starts around (via Hostelworld):

€26-€32 during the week
€30-€34 on the weekend
---
Rivoli Cinema Hostel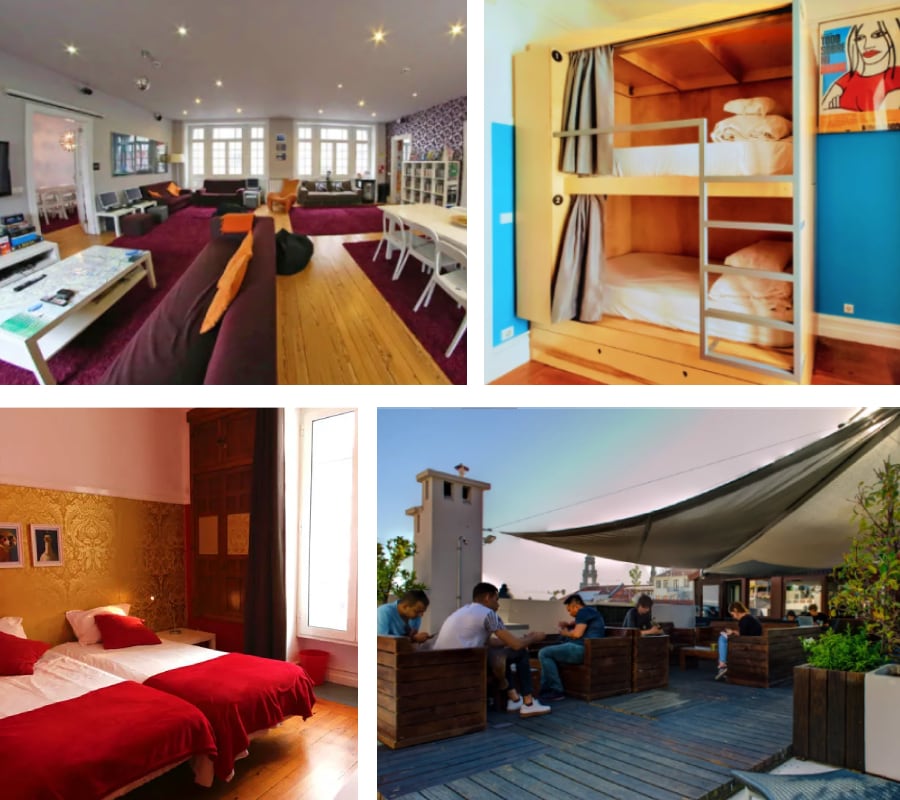 Rivoli Cinema Hostel is a former "top five small hostels worldwide" winner thanks to its great location that's within walking distance of Porto's best sights and its character-filled 1930s Art Deco-style building. Rivoli Cinema Hostel has a large rooftop terrace with a swimming pool and they do frequent pub crawls and free city tours—all of which help create a very social atmosphere. They also have a fully equipped kitchen.
The hostel beds are comfortable and they have curtains for privacy. The staff also does a nice job keeping the hostel clean.
Price per night starts around (via Hostelworld):

€30-€32 during the week
€32-€34 on the weekend
---
Porto Spot Hostel
Porto Spot Hostel is one of the best hostels in Porto and it ticks the boxes for everything you want in a hostel—it has friendly staff, a nice location, a social atmosphere, and modern amenities. The hostel is just large enough to be social without feeling like you're living on top of the other guests.
Porto Spot Hostel is a favorite pick for solo travelers and for anyone looking to meet fellow travelers because they have multiple social events like nightly group dinners, walking tours, and pub crawls. This helps build a "home-like atmosphere" but I wouldn't call this a "party hostel" so you can still get some sleep.
They provide free breakfast and they have a fully equipped kitchen so you can cook your own meals.
Price per night starts around (via Hostelworld):

€22-€24 during the week
€28-€38 on the weekend
---
PILOT Design Hostel & Bar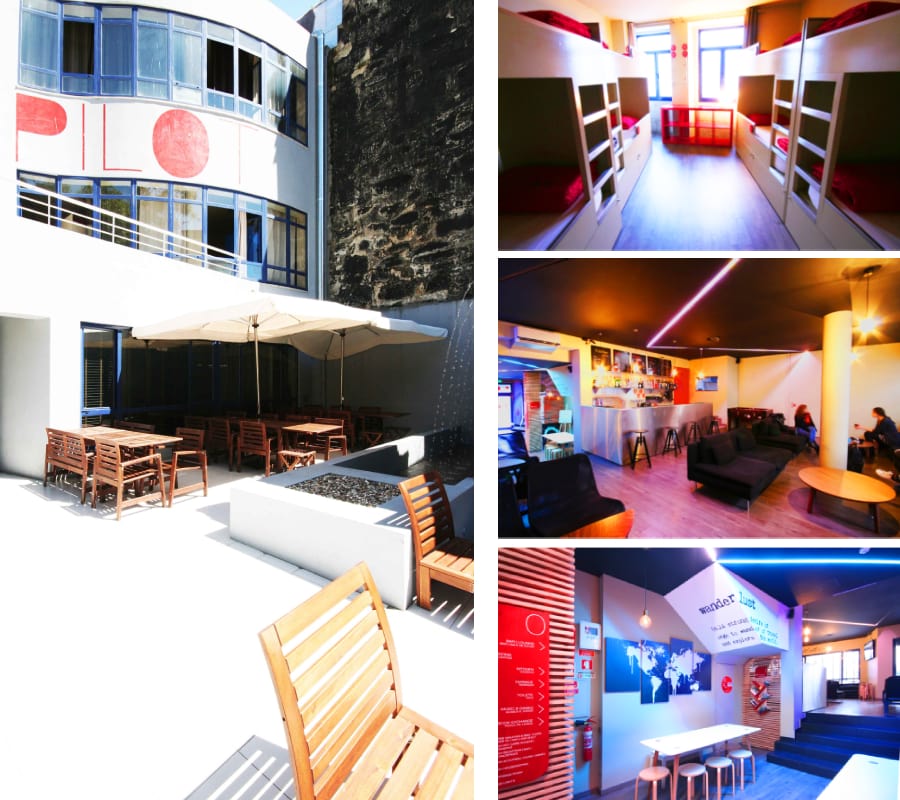 PILOT Design Hostel has been the most popular hostel in Porto for multiple years in a row so it should be at the top of your list. PILOT is a modern hostel with a friendly staff and fun atmosphere so it's easy to meet your fellow travelers. They also have a fun 24h bar/lounge, and a walking tour (some guests mentioned getting a free drink on arrival as well). There is also a cheap breakfast at the hostel every morning.
I wouldn't consider this a full-on "party hostel" but the bar/lounge does get very lively in the evening.
PILOT Design Hostel is located in Porto's historical center so you're only two minutes from great nightlife, restaurants, historical sights, etc.
Price per night starts around (via Hostelworld):

€20-€35 during the week
€20-€35 on the weekend
---
The House of Sandeman Hostel & Suites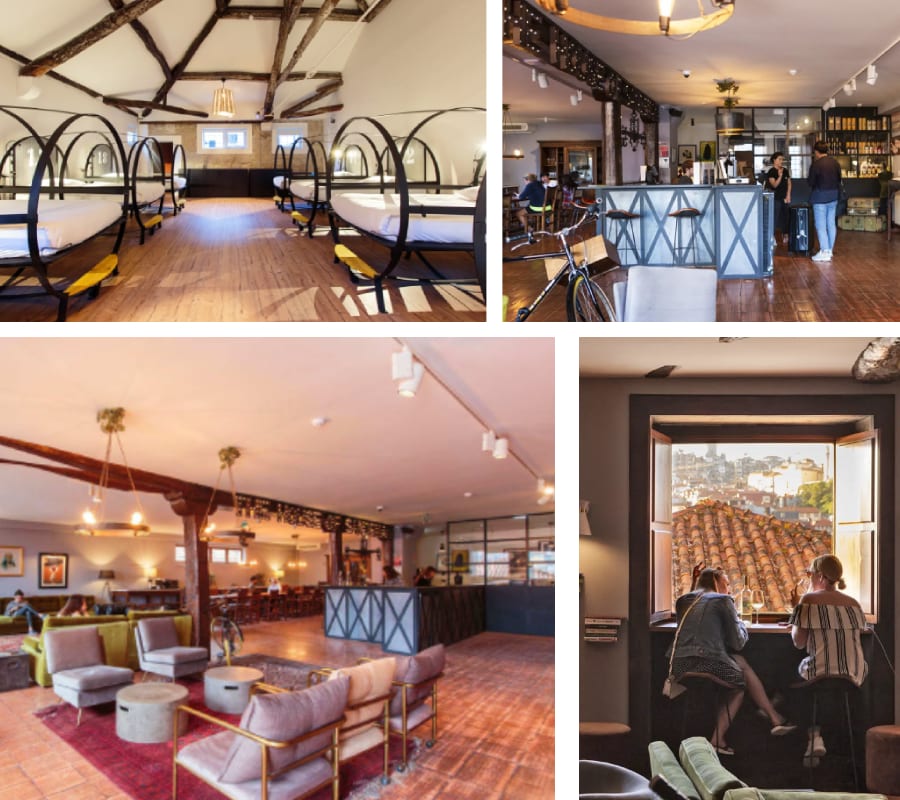 The House of Sandeman Hostel is a boutique hostel that has a hotel vibe while still maintaining a social atmosphere. It's not a party "backpacker" hostel but they have an on-site bar/lounge where the staff organizes several activities so it's more lively than some other boutique hostels.
Guests give House of Sandeman Hostel excellent reviews for being clean and for the large, comfortable beds. But most people comment how the beds a kind of shaky so they shake when other guests move around. Otherwise, The House of Sandeman Hostel is a great choice.
Price per night starts around (via Hostelworld):

€22-€25 during the week
€24-€27 on the weekend
---
The Passenger Hostel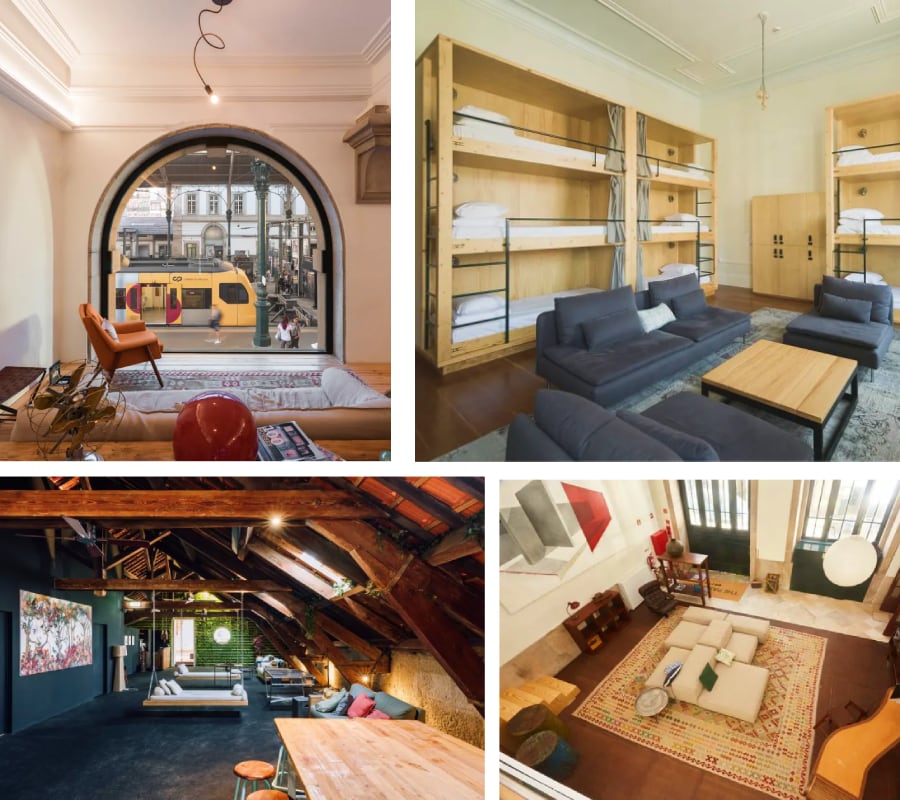 The Passenger Hostel is located at São Bento Train Station—which is a beautiful UNESCO World Heritage site. You're literally right in the middle of the city so everything is right out the front door.
The hostel is newly renovated so it has modern amenities while preserving a ton of the building's character.
The beds are comfortable and their bathrooms get high praise from guests (which isn't often the case for hostels). There is also a kitchen if you want to make your own food.
The Passenger Hostel has a laidback atmosphere with a nice bar/lounge area and the staff organizes nightly activities for the guests. Past guests mention that it's not an overly social hostel but you can still find other travelers to hang out with if you want.
Price per night starts around (via Hostelworld):

€27-€30 during the week
€30-€33 on the weekend
---
Nice Way Porto Hostel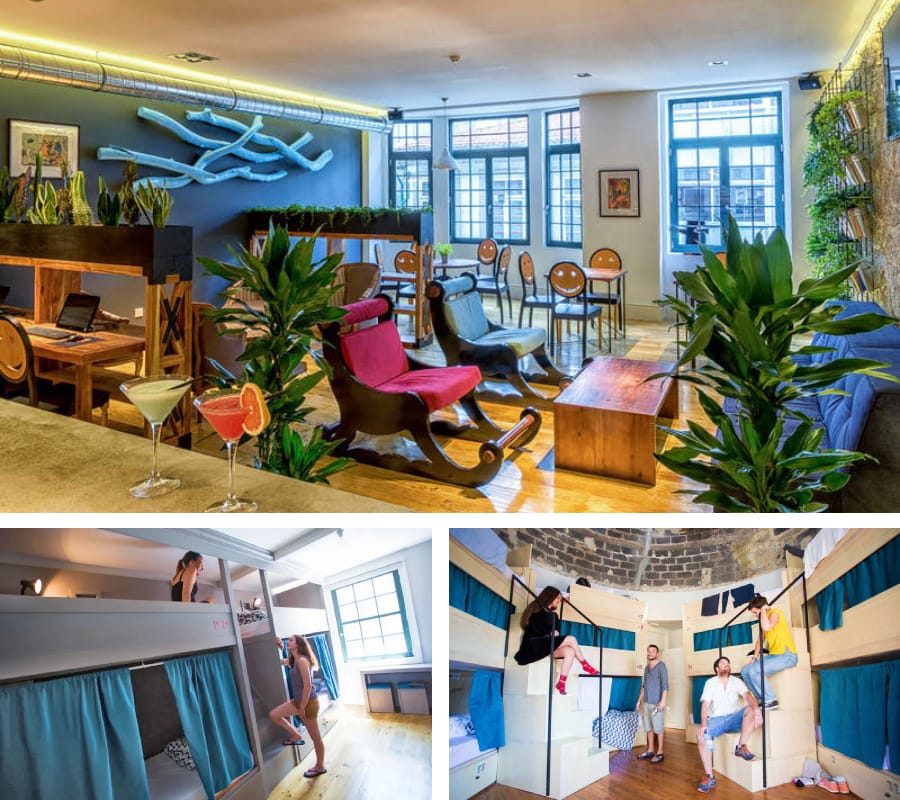 Nice Way Porto is another highly-rated hostel in Porto that has an excellent location that's only 5 minutes from the train station and a nice variety of room configurations (from dorms to private en-suites with twin and double beds). The rooms are equipped with modern details like bunk lights, large bunks, and lockers.
Nice Way Porto has an on-site bar (that has a half-price happy hour) and a fully-equipped kitchen so that helps create a welcoming atmosphere.
Price per night starts around (via Hostelworld):

€20-€25 during the week
€23-€28 on the weekend
---
Porto Wine Hostel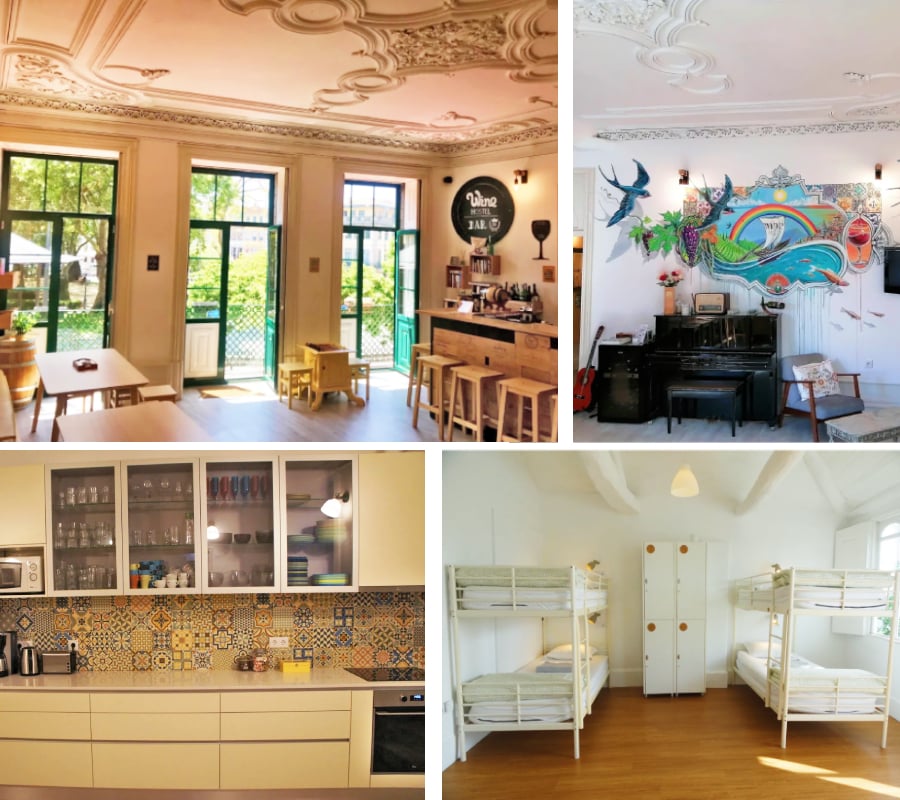 Porto Wine Hostel is all about… wait for it… Porto wine and you'll be treated to a free glass when you check in to the hostel. The amenities are modern, the architecture is super cool, the beds are comfortable, and the staff does a nice job keeping the hostel clean. They also have a self-catering kitchen.
One of the main draws to the Porto Wine Hostel is the location—it's located on one busiest nightlife streets in Porto. So if you're a light sleeper, ask for a room in the back because the street-facing rooms are noisy on the weekends when everyone is out on the street. The hostel also it's own small bar in the lobby with cheap drinks.
Price per night starts around (via Hostelworld):

€25-€31 during the week
€28-€34 on the weekend
---
Other Porto Hostels Worth Checking Out
Porto has so many quality hostels that it's hard to narrow down to the "best." That's why I've included a few other honorable mentions that still get high ratings but maybe they're either so new that they don't have a ton of ratings yet or maybe they don't quite crack the best-of-the-best for a minor reason.
---
Packing Advice For Hostel Travel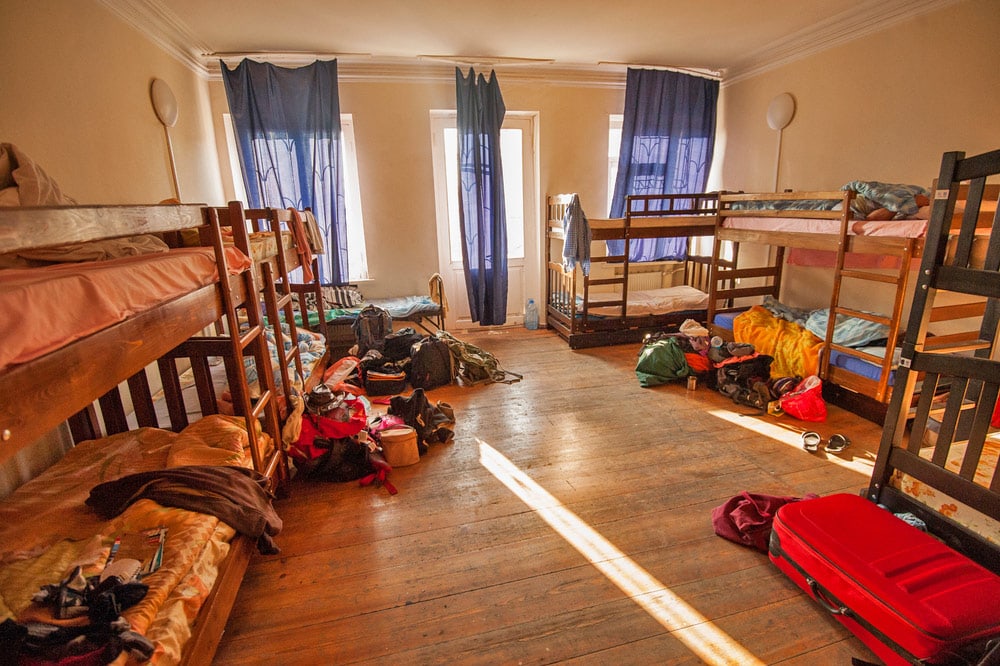 Staying in hostels poses a few unique packing challenges so I'm here to help by recommending a few of my must-have items. Check out my Hostel Packing List for the full list but below are the absolute necessities:
---
More Travel Tips From The Savvy Backpacker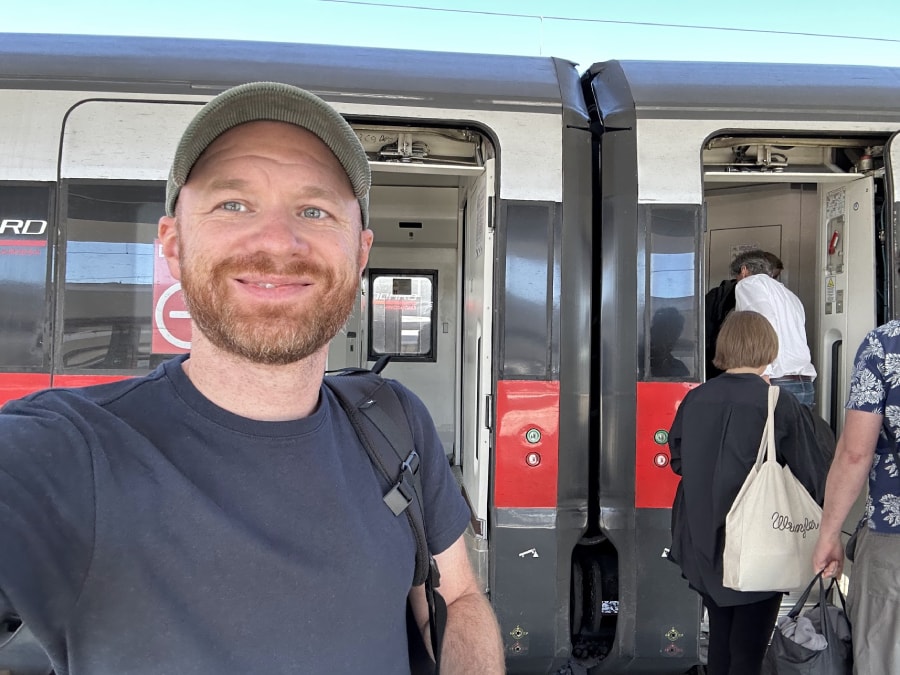 Heading to Europe soon? Here are some more helpful articles I've written to help you plan your European travels.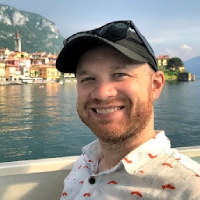 Latest posts by James Feess
(see all)
No Funny Business
The Savvy Backpacker is reader-supported. That means when you buy product/services through links on the site, I may earn an affiliate commission — it doesn't cost you anything extra and it helps support the site.
Thanks For Reading! — James
Questions? Learn more about our Strict Advertising Policy and How To Support Us.