Packing for your trip to Europe can be stressful so I've put together my Europe packing list. This mega packing list will cover everything from clothes and luggage to electronics and toiletries. I've even tried to include specific packing tips for summer travel and winter travel.
Interested in packing tips for backpacking Europe? We've created a Backpacking Europe Packing List For Women and Backpacking Europe Packing List For Men.
Europe Packing List
This Europe packing list is very extensive so here is a quick rundown of what you'll see in this guide. Keep reading to see everything.
Europe-friendly Luggage

Rolling Luggage
Travel Backpacks

Packing & Organization

Packing Cubes
Packing Folders
Toiletry Bags

Travel Clothing Packing List

Travel Underwear
Travel Socks
Shoes For Travel
Shirts & Tops For Travel
Jeans, Pants, & Bottoms
Outerwear For Travel
Winter Clothing

Travel Accessories Packing List

Daypack
Travel Towel
Travel Flashlights
Eyemask & Earplugs
Water Bottle
Sleep Sheets
Travel Laundry
Travel Utensils
And More

Electronics Packing List

Electric Plug Adapters
Travel Power Strip
Phone Chargers
Digital Camera
Travel Hairdryer & Straightener
And More

Travel Toiletries

Shampoo/Conditioner/Body Wash
Toothpaste & Toothbrush
Travel Toilet Paper
Wet Wipes/Baby Wipes
Body Powder
Pepto Tablets
And More
---
Europe-Friendly Luggage

The type of luggage you choose will have a major impact on your travel style.
You essentially have two choices — a wheeled suitcase or a travel backpack. Either option is perfectly fine but both have their positives and negatives (which we'll cover in this section).
Before I talk about luggage, I want to reiterate the idea of packing light because traveling light makes moving around easier and more enjoyable.
Rolling Luggage
Rolling luggage is the most popular style of luggage for traveling in Europe. It offers a lot of benefits but it's not always right for everyone.
Rolling Luggage Benefits
Weight Isn't a Huge Concern: You don't have to worry about weight as much since you're pulling your bag. This can lead to overpacking — which will make carrying your bag up and down staircases and into luggage compartments more difficult.
No Back Pain: Not everyone can strap on a heavy backpack so rolling luggage is much more ideal in these cases.
Rugged: A quality suitcase can take a bit more punishment than a backpack because they're designed to be thrown around a bit.
Ideal For Door-to-Door Travel: If you plan on taking taxis from your hotel to the airport/train station then traveling with a suitcase makes sense.
Disadvantages of Wheeled Luggage
Cobblestones: Wheeled luggage is great on flat surfaces but becomes unwieldy on stairs and cobblestone streets.
Stairs: While hotels might have elevators, most rental apartments and hostels might have quite a few stairs.
Public Transportation: Not all public transportation in Europe has escalators or elevators. A large suitcase will be unwieldy when you have to lug it up a bunch of stairs. Additionally, public transportation tends to be crowded, so pulling a big suitcase through a mob of people can be difficult.
Not Hands-Free: You'll lose the ability to use both hands when you're wheeling your suitcase around — which will impact the ease of travel.
Features of Quality Rolling Luggage
Hard-Shell or Soft-Sided:  Soft-sided bags tend to hold up better than hard-shell bags and they also fit into overhead bins much easier because they're more flexible. They can be thrown around without much chance of major damage. Hard-shell bags are normally much lighter than soft bags, but there is a larger chance the bag could crack. However, a hard-shell bag will keep the things inside your bag safer since it has more structure — so a hardshell might be best if you're traveling with a lot of fragile things.
Two Sturdy Wheels: Those four-wheeled rolling luggage are great on flat smooth surfaces but get eaten up by Europe's streets. Look for bags with two sturdy wheels.
Size: If you're planning to carry on your luggage then you'll want to ensure it fits those requirements — especially if you're traveling on Europe's size-stingy budget airlines. Not carrying-on? Try limiting yourself to a reasonably sized backpack that you can handle without assistance.
Color: A non-black bag will help you recognize your bag more quickly at the baggage claim. If you do have a black bag, we suggest using a distinctive luggage tag or luggage strap to help prevent other people from accidentally taking your bag (it happens more often than you think).
Travel Backpacks
I'm a big fan of travel backpacks and it's my preferred luggage choice. However, they're certainly not for everyone so I'll cover what to consider before buying a travel backpack.
Check out my guide to the Best Travel Backpacks and the Best Carry-On Backpacks. 
Benefits of Travel Backpacks
Mobility: Easily navigate crowded streets and public transportation since all your stuff is on your back.
Hands-Free Travel: Traveling with two free hands makes your life much easier and more enjoyable.
Navigate Stairs & Streets: You won't have to worry about stairs or cobblestone streets with a backpack.
Less Stress: We find that our stress levels go down when we use a backpack since we don't have to worry about knowing where our stuff is.
Disadvantages of Travel Backpacks
Uncomfortable If Overloaded: A travel backpack will be uncomfortable if you overpack.
Checked Luggage: If you have to check your backpack when flying, you must be cautious because the conveyor belts can sometimes rip off the straps of the backpack You'll have to take extra precautions when checking your bag (or get a backpack that has stowable straps).
Must Fit Well: It is important to get a backpack that fits your body well. If not, it can quickly become uncomfortable.
More Difficult to Pack: Most modern travel backpacks open up like a standard suitcase so they're easy to pack but some 'hiking' style bags only open from the top.
Back Pain: Even a well-packed can start to cause back pain so it might not be great for people with mobility issues.
Features Of A Great Travel Backpack
I've written multiple guides about finding the perfect travel backpack. Here's my Guide To Choosing The Perfect Travel Backpack and a list of my favorite backpacks traveling Europe.
Recommended Travel Backpacks and Rolling Luggage
Travel Backpacks We Like:
Rolling Luggage We Like:
Where To Buy Travel Backpacks and Wheeled Luggage
There are a lot of places to purchase luggage and travel backpacks. Here are a few of our favorites:
Amazon — Amazon has everything.
Zappos — Zappos doesn't always have every brand/model of luggage but they have free shipping and super easy free returns in case your bag doesn't fit you correctly.
REI — REI has a decent selection of luggage and their selection of travel backpacks is very solid.
---
Get Organized For Travel
Life gets a little more complicated when you're living out of a bag but worry not… I'm here to help.
Packing Cubes
Behold the magical packing cubes.
They may not look like much but these simple travel accessories make packing so much easier.
The idea behind packing cubes is simple — you divide your clothing up between different cubes (socks in one cube, underwear in another cube, etc.). This keeps all your clothes compressed and organized.
This way you can quickly grab what you need. And these make repacking all your stuff easy as well since you know where everything goes.
As an added bonus, packing cubes can also help reduce wrinkles by preventing your clothing from shifting around in your bag. And the compression lets you fit more stuff into your luggage.
There are a ton of companies that make packing cubes but here are a few of our favorites:
Learn More: Read a more in-depth review of the best packing cubes. 
Packing Folders
We don't personally use packing folders but they're a popular travel accessory. Basically, packing folders are designed for larger items like dresses, button-up shirts, and pants.
We recommend Eagle Creek Packing Folders — which cost anywhere from $16-$25 depending on size (via Amazon).
Hanging Toiletry Bag
A toiletry bag is essential for keeping all your toiletries contained.
Do yourself a favor and buy a toiletry bag with a hook so it can be hung up since most European bathrooms have little/no counter space. There are a bunch of different bags available on Amazon but here are a few popular travel toiletry bags:
Other Helpful Organization Aides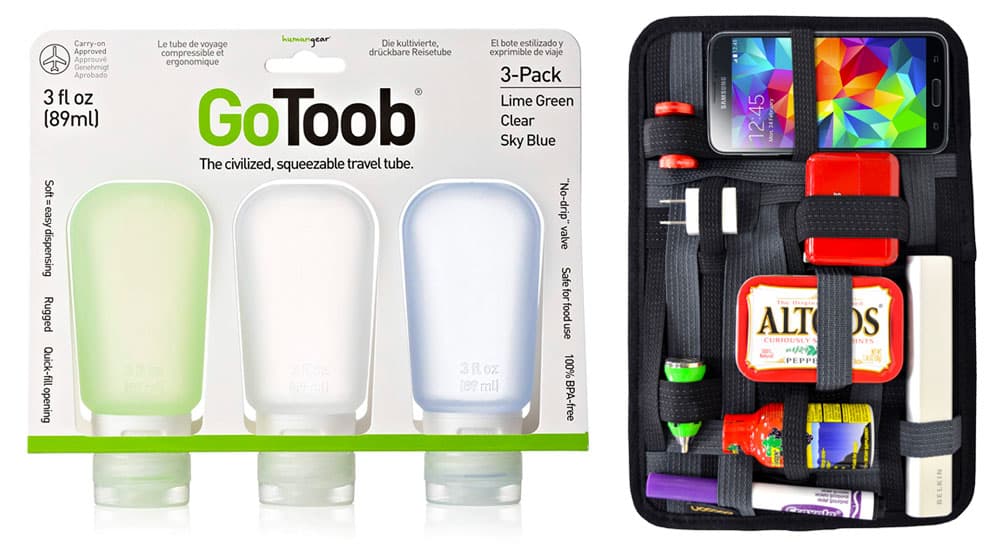 ---
Travel Clothing Packing List

The majority of the weight in your luggage will come from clothing so it's important to limit your clothes if you want to travel light. Of course, this is easier said than done.
In this section, we'll help you choose which types of clothes to pack, some general tips for packing light, and packing tips for all seasons (summer, fall, winter, and spring).
Efficient Clothing Packing Tips
Coordinate Clothing Colors: Ideally, each article of clothing you pack should pair well with any other item. The idea is that you can mix multiple items to create different outfits. If you have a shirt that only looks good with one pair of pants, then you might want to reconsider bringing that item.

While it might be a bit boring, it is usually easiest to pack mostly dark colors since they're the easiest to coordinate. Additionally, dark colors do a better job of hiding stains than light colors.

Avoid Single Wear Clothing: Don't bring anything that you'll only wear once because it's not worth lugging around for your entire trip. Choose pieces that can be worn for a variety of occasions.
High Maintenance is No Good: You're going to be wearing your clothes a lot so you want things that can take a bit of punishment and is machine-washable
Accessorize: You'll probably get tired of wearing the same thing all the time so throwing in a few accessories (hats, scarves, sunglasses, etc.) is a good way to change up your outfit.
Buy Clothes as You Travel: We know a lot of travelers who only bring the bare minimum of clothing and then buy new stuff as needed.
Travel Underwear

I'm a big fan of travel underwear — mainly because you can easily wash them in the sink and they'll dry in a few hours. They're also designed to be more comfortable when you're traveling all day. When you're searching for travel underwear, look for the following things:
Fast Air Drying: The best travel underwear is made from high-tech synthetic materials or fine Merino wool that air-dries very quickly. This allows you to wash your underwear in the hotel/hostel sink and then have it completely dry in the morning. Additionally, since you can wash your underwear easily, it means that you don't need to bring as many pairs.

Furthermore, cotton can take well over 24 hours to air dry — which makes it a pretty poor choice.

Breathable: Synthetic materials and fine Merino wool are both very breathable and they wick moisture away from your skin. Dry = comfortable. Breathability is still very important in cold weather. You still sweat when it's cold and that sweat will quickly give you a chill — even when you have winter clothes on.

Cotton does the exact opposite — it retains sweat and it leads to that "swampy" feeling we've all experienced.

Odor Control: The best travel underwear helps manage odors. Cheaper synthetic underwear will start to smell pretty quickly but the higher-quality synthetic fabrics will do a better job. We've found that fine Merino wool does the best job of stopping odors.
The number of pairs you bring is a personal preference. We don't like washing underwear every night so we bring five or six pairs — but you could conceivably get away with two pairs (if you don't mind washing often
Recommended Women's Travel Underwear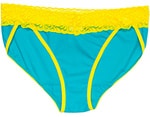 The most popular travel underwear is made by ExOfficio — they get a ton of great reviews on Amazon. They are ideal for travel because they're breathable, odor-repellant, and dry in just a few hours. They do tend to be more expensive than normal underwear but most experienced travelers swear by them.
ExOfficio has a fairly wide range of underwear styles available and they're priced anywhere from $8-$20/pair (depending on style and color):
Patagonia also makes some really nice underwear that is great for travel. They get good reviews for being soft and comfortable. The Patagonia underwear won't dry quite as quickly as ExOfficios but they still dry quickly. Patagonia stuff is always high quality but it also comes at a price — these normally cost about $20/pair.
Bring two or three comfortable bras. You may also want to bring a quality sports bra for those long travel days.
Recommended Men's Travel Underwear
ExOfficio Give-N-Go underwear is the most popular underwear for travelers (read our personal review here) and their boxer briefs have over 5000 reviews on Amazon.
I wear mine even when I'm not traveling because they are pretty damn comfortable. ExOfficios breathe well, inhibit odor, and air dry super quickly. ExOfficio offers a few different styles and they cost between $15-$25/pair (via Amazon). They've also just released their new Give-N-Go Sport boxer briefs that look really nice. They cost $30 (via Amazon).
Under Armour also makes HeatGear underwear that performs similarly to the ExOfficios. They cost around $20/pair (via Amazon).
If you prefer wearing natural fibers, we suggest Merino wool. The Smartwool underwear is nice and will keep you cool and dry. They usually run about $48 so they are on the expensive side. We also have a pair of boxer briefs from Wool & Prince that we really like.
Socks For Travel
It might not be exciting but a quality pair of socks will make a world of difference when you're traveling. I'm a huge fan of socks made from fine Merino wool.
Lightweight merino wool socks are great in the summer because they'll actually keep your feet cool and dry. Heavier-weight socks are good for traveling in the winter because they'll keep your feet warm and dry.
Quality socks are expensive but they'll last for a long time if you take care of them. Synthetic/wool blends also work well.
Ideal Travel Socks:
Wick Moisture: Your feet will sweat but a good pair of socks will draw moisture away from your feet. Keeping your feet dry will help eliminate odor and will also help stop blisters.
Dry Fast: A lot of good wool and synthetic socks can be washed in the sink and will dry overnight (about 6-8 hours).
Eliminate Odor: High-quality wool is naturally odor-resistant. Some synthetic socks have special anti-bacterial features that help eliminate odor but they're not quite as effective as wool. Synthetic-wool blends also work well.
Aren't Cotton: Cotton is a terrible choice when it comes to socks. Cotton traps moisture and dries very slowly — this will lead to blisters and smelly feet. Additionally, cotton socks take a long time to air dry (24+ hours) so they're difficult to wash in the sink.
A good pair of socks can be worn 2-3 times before they start to stink (although you'll want to rotate the days you wear each pair so they can "air out"). For a more in-depth article about the wonderful world of socks, check out our article about the best travel socks.
Recommended Travel Sock Brands
SmartWool: SmartWool Socks are great. I wear them even when I'm not traveling. They make socks for nearly all activities — hiking, skiing, walking, running, etc. SmartWool also makes Hide and Seek Socks and Secret Sleuth Socks. Check Amazon since Smartwool makes a ton of varieties.
Darn Tough Socks: Darn Tough Socks are known for being super durable — in fact, they're guaranteed for life. Plus they're made in Vermont.
Shoes For Traveling Europe
Wear. Comfortable. Shoes.
The most important packing tip is to wear sturdy, comfortable shoes when traveling Europe.
Trust me — you're going to be on your feet way more than usual and your feet are going to take a beating. That's why you should put comfort over fashion — luckily there are plenty of fashionable and comfortable shoes on the market.
So let's look at a few tips for ensuring your feet stay happy:
Comfort Is Key: Your main pair of shoes should be a comfortable pair of sneakers. Luckily, sneakers are in-style these days and there are plenty of options that are both fashionable and comfortable.

Here's a list of what I think are the best travel shoes if you want my top picks.
Have bad feet? Consider adding a pair of insoles to your shoes. Superfeet insoles get a lot of great reviews but there are a lot of other brands available.

Consider Your Environment: Match your footwear to your environment. For example, you may want to consider a waterproof shoe if you're traveling to rainy/snowy locations. Conversely, you probably don't need heavy-duty mountain-hiking boots if you're spending all your time in cities.
Break In Your Shoes Early: Even comfortable shoes can take a little while to get broken in. That's why I recommend wearing your shoes for a few weeks before your trip so you know they won't give you blisters or foot pain.
Two Pairs Max (For Light Travel): If you're traveling light you'll really want to limit yourself to two (or even one) pair of shoes. Woman tend to opt for a pair of sneakers and a pair of flats or sandals that are comfortable but also a little "nicer" looking. Men should bring a pair of leather sneakers that walk that line between stylish and comfortable.

For Winter Travel: I recommend a lightweight pair of waterproof boots for poor weather (snow, rain, cold, etc.) and sneakers for the nicer days. Luckily, boots can often be dressed up a bit they still look nice enough at restaurants, etc. Check out our guides for the Best Waterproof Boots for Men and Best Waterproof Boots for Women for some fashionable and functional options.

For Hostel Travelers: Don't forget a cheap pair of sandals for the showers…
Learn More: Take a look at our guides to the Best Travel Shoes For Women and the Best Travel Shoes For Men—both articles go into much more detail about what you should look for in a pair of travel shoes as well as a selection of footwear perfect for travel.
Shirts and Tops For Travel
Now let's dive into shirts and tops. To help keep things simple, I've split this section up into a women's section and a men's section.
Treat these sections as general guidelines on what kind of shirts/tops to pack — don't forget the general rules of durable fabrics, dark colors to hide stains and wrinkles, and choosing items that can be easily paired with other items.
By the way, if you're an ultralight traveler, you'll probably want to pack less than what is listed below.
Tops For Women Packing List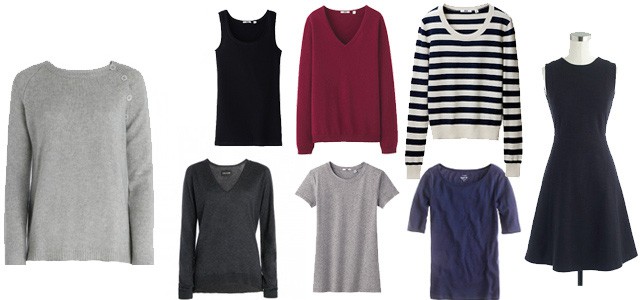 Shirts (3 or 4): A mixture of short and long sleeve tops is ideal. Remember to dress for the weather, but also realize that it can get cool at night during the summer. Bring a mixture of casual and dressy tops so you can mix and match.
Light Sweater/Cardigan: Even during the summer, temperatures don't always get really hot (although they can). In Paris, the average high temperature in June is around 72 degrees and it can drop into the low 60s at night. That's why it is a good idea to bring a light sweater or a cardigan.
Dresses (1 or 2): Look for a versatile lightweight dress that can be worn casually or dressed up.
T-shirts and Tank Tops: Sometimes you just want to wear a simple t-shirt so be sure to bring a few. Just pick whatever you're comfortable wearing. The ExOfficio Lacy Shelf Bra Cami is a nice undershirt or sleep shirt — it is super lightweight, breathable, and air-dries overnight if you want to wash hand wash it.
Women's Travel Clothing Brands
Athleta: Athleta has really stepped up their travel clothing and they have a lot of solid options.
Lululemon: Lululemon has a number of good travel clothing options.
Anatomie: Anatomie has a bunch of higher-end clothing that looks really nice
Tops for Men Packing List

Button-Up Shirts (1 or 2): Casual button-up shirts are probably the safest bet when it comes to a shirt. They are more dressy than a t-shirt but can still be casual. Plus, you can unbutton it a bit to allow for extra airflow. It's up to you whether to get long or short sleeves but long sleeves are more versatile because you can just roll them up when it's warm.

Shirts We Like:

Bluffworks Meridian shirt is a super-tough wrinkle-free travel shirt that can be worn casually or dressed up. It retails for $125. Available via Bluffworks
Wool & Prince sells a number of nice 100% merino wool shirts. Their long-sleeve button-ups retail for $128 and their short-sleeve sell for $98.

T-shirts (3 or 4): While lightweight button-up shirts are probably the most versatile, sometimes it is nice to just throw on a t-shirt. It is easiest to stick to solid-colored shirts but feel free to wear whatever you feel most comfortable wearing. These lightweight t-shirts from Icebreaker are great in the summer because they are super breathable.

T-Shirts We Like:

Bluffworks recently released its performance t-shirt which sells for $45.
Wool & Prince sells super nice 100% merino wool t-shirts ($68) and polos ($98).
Uniqlo makes a number of budget t-shirt options that we always dig. Their inventory changes often but they always have something.

Sweaters (1 or 2): A lightweight sweater is nice if you want to dress up a little or if the temperature drops when the sun goes down. Layering a sweater over a button-up shirt looks nice (so make sure all your button-ups match your sweater). Of course, if you're traveling in the summer, you probably don't need to pack a sweater but having one or two in the winter is nice.
Jeans, Pants, and Bottoms Packing Guide
I usually only pack two pairs of pants — mainly because they take up a lot of space in your luggage. Also, pants are one of those things that you don't really need to wash all that often so there's no real need to pack multiple pairs.
Pants & Bottoms for Women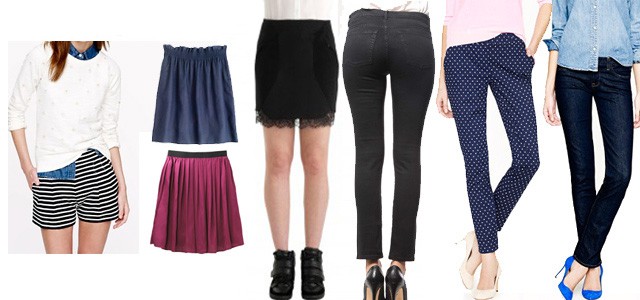 Dark Skinny Jeans or Trousers (2 pairs): A pair of dark skinny or slim-fitting jeans is a must for traveling to Europe — they can be dressed up or worn more casually. Additionally, a well-fitting lightweight pair of trousers are another great option during the warmer months.

For Cold Weather: Throw on a pair of lightweight micro-wool long underwear (i.e. a base layer) under your jeans — SmartWool and Icebreaker are two great brands.

Capri Pants: Capri pants are a nice option in warm weather that still looks nice but are also functional.
Skirts: Skirts are dressier than shorts and they take up essentially no space in your luggage. Feel free to bring a mixture of shorter and longer skirts.
Shorts: Shorts are starting to become more popular in Europe so, contrary to popular belief, you won't feel out of place wearing them — especially in the south of Europe. That said, we recommend bringing a fashionable and well-fitting pair as opposed to 'athletic' shorts.
Women's Travel Clothing Brands
Athleta: Athleta has multiple options for pants that work well for travel.
Lululemon: Lululemon has a few jogger pants and other options that would work well for travel.
Anatomie: Anatomie has a bunch of higher-end travel items.
Uniqlo: Uniqlo always has a few pairs of travel pants that are friendly on your bank account.
Pants & Bottoms for Men

Jeans: A pair of dark jeans are essential for traveling in Europe. They look great during the day and they can be dressed up for nighttime. Additionally, jeans can go weeks without needing to be washed.
Pants: In addition to jeans, we recommend bringing a pair of lightweight pants. Dark colors are nice for hiding stains.

Travel Pants I Like

Bluffworks makes a series of lightweight, durable, and quick-drying travel pants that also look like regular pants. Pairs range from $98-$140. They also make some solid Travel Jeans for $125.
AT Slim Rivet Pant from Western Rise and stretchy, stain-proof, and incredibly durable. They
retail for $129.
The Brion Pant from Prana is one of the more fashionable "outdoor" pants and they sell for $79.

Shorts: In the past, you wouldn't find many adult men wearing shorts in Europe but this is changing very quickly. Stick to well-fitting fashionable shorts but stay away from things like athletic shorts or the classic "touristy" khaki shorts.
Cold Weather: When the temperature drops, it can be nice to have a lightweight base layer to go under your pants. SmartWool and Icebreaker make some of our favorite high-quality base layers.
Outerwear Guide
It's a good idea to prepare for the elements so you'll want to look into a few options — especially in the non-summer months.
Rain Jacket

The winter, spring, and fall tend to be fairly rainy in much of Europe so we suggest packing a rain jacket. You might not need one for summer travel but it doesn't hurt to pack a super lightweight one.

Fleece Jacket

Fleece is great because it provides a lot of warmth without being bulky. It can be worn as an outer layer or it can be layered under a rain jacket or winter coat to provide a lot of extra warmth.

Lightweight Down Puffy Jacket

An alternative to a fleece jacket is a lightweight puffy down jacket. These can be worn as an insulating layer in the cold or as an outer layer if it's cool. Additionally, many of these jackets can be packed into a tiny ball so they don't take up much space in your luggage.
Clothing Accessories
Here are a few handy accessories to round out your outfit.
Scarf: Scarves are a handy item that adds style and comfort on cooler days. You can always buy a few as you travel because they make great souvenirs.
Sunglasses: Sunglasses are a must-have because they're both practical and fashionable. After living in Europe, we noticed that Ray-Ban Wayfarer sunglasses were a top choice of the truly fashionable but you might want a cheap pair if you're on the move all the time.
Europe Winter Weather Packing Guides
Winter travel in Europe poses a few extra packing challenges to consider so we've written a few handy guides to help guide you on your way.
---
Travel Accessories Packing List
We've put together a list of our favorite travel accessories to help make traveling in Europe easier and more enjoyable.
SIM CARD FOR CHEAP MOBILE DATA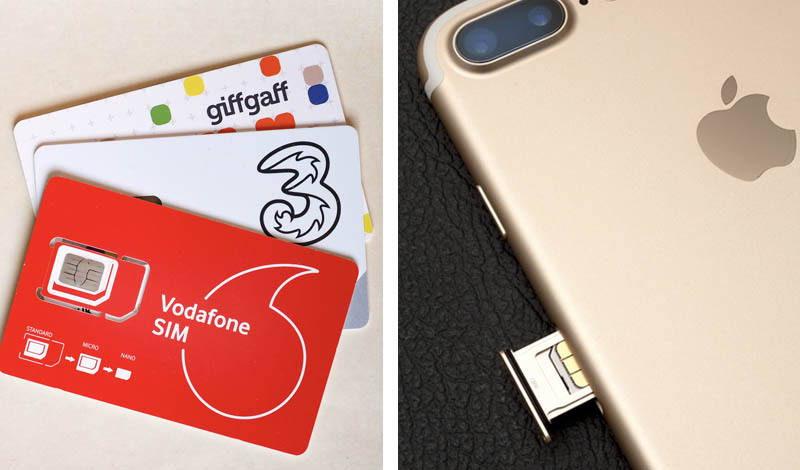 The cheapest way to get mobile data for your phone is by using a European SIM card — this is much cheaper than using your home carrier's International Mobile Data plan.
You can read about my guide to using smartphones and data plans in Europe but I recommend buying your SIM card from SimOptions.com.
Travel Daypack
A small backpack is essential for carrying around your day-to-day stuff (camera, souvenirs, rain jacket, guidebooks, etc.) as you're sightseeing. We recommend a small daypack that can be easily packed away in your luggage and that won't strain your back as you wear it all day. Here's a list of the best daypacks. — we've also included a few anti-theft backpacks which are handy if you're visiting areas known for pickpockets.
Travel Towel
Packing a quick-drying travel towel will come in handy if you're staying somewhere like a hostel that doesn't provide towels. That's because traditional cotton towels, in addition to being very bulky, take hours to dry — which will lead to a musty smell if you pack it before it is dry. Travel towels work well because they are compact but can still absorb plenty of liquid as they dry overnight.
Note: Travel towels are often much smaller than normal towels. We suggest buying the large or XL size—especially if you have long hair (or buy two).
There are a ton of travel towels on the market but these get great reviews:
Keychain Flashlight
Most people use their phone as a flashlight light but a small keychain flashlight is still a nice accessory — especially in dark dorms and city streets.
We love the Streamlight 73001 Nano Light Miniature Keychain LED Flashlight because it's super small (it fits on a keychain) but it provides a ton of light. Streamlight also has a ton of other great-quality pen lights if want other compact light options
Padlock & Retractable Cable Lock

If you're staying in a hostel, you'll need a lock so you can secure your stuff in the lockers. We recommend the Master Lock Set-Your-Own-Combination Padlock because it allows you to create your own combo so it's easier to remember.
Retractable cable locks are nice for securing your bag to your bunk or a luggage rack. They will deter a thief from running by and snatching your bag.
Earplugs & Eye Mask
An eye mask is nice for trains/planes/buses or if you stay in hostels (some jerk will turn the lights on at 3 am). Additionally, you'll be glad you brought earplugs if you stay in hostels because you'll eventually share a room with someone who snores. These Mack's Pillow Soft Silicone Earplugs are really nice for sleeping.
Notebooks

Throw in a small notebook like the Moleskine Notebook, Field Notes, or Rhodia notebooks to make notes of things as you travel. We write down directions, phone numbers, addresses, restaurants, spending, etc. At the end of your trip, your notebook will end up being a nice little souvenir.
Water Bottle or Flexible Water Bottle

Stay hydrated with a water bottle. A basic water bottle is perfectly fine but this flexible water bottle by Platypus Soft Bottle is a great choice because it can be rolled up when empty.
Travel Sleep Sheet
Are your hostel sheets clean… who knows? If you don't want to take the chance, think about packing a sleep sheet/sleep sack. A cotton Sleep Sheet is cheap but bulky. Silk Sleep Sacks cost but they're a lot lighter, less bulky, and the silky feeling is nice.
Laundry
Duct Tape
Patch up stuff with duct tape. A whole roll because it is too bulky so just wrap some around a pencil. Or buy some travel duct tape.
Digital Luggage Scale
Make sure your bag isn't too heavy with a digital luggage scale.
Photocopies Of Important Documents
Make copies (physical and electronic) of your passport and other important documents. We email them to ourselves or save them to Google Docs.
Ziploc Bags (Multiple Sizes)
Plastic bags are a great way to store your dirty or wet socks/underwear so they don't get mixed with your clean clothes. We'll also put our liquids in a sealable bag in case of a leak. The large 3 gallon bags are nice for storing shoes so you don't get your clothes dirty.
Money Belt
One of the best ways to avoid becoming a pickpocketing victim is to wear a money belt (learn more about avoiding pickpockets here). Personally, we don't really like money belts because they're kind of annoying to wear but a lot of people always wear one — it comes down to personal preference.
Collapsible Umbrella
A travel umbrella is optional if you're traveling in the summer. However, the fall, winter, and spring tend to be rainy, so you might want to bring one along.
Travel Utensils

We eat a lot of meals from the grocery store so we always bring a set of Plastic Travel Utensils. If you really want to go all out, you should check out this sweet titanium spork.
Toothbrush Cover

Keep your toothbrush germ-free with the Steripod Clip-on Toothbrush Sanitizer cover. It protects the brush and sanitizes it using voodoo science. Yeah, science! Or you can just get a normal toothbrush cover if that's how you roll.
Lint Roller
A lint roller is an easy way to help keep your clothes looking presentable.
Guide Books and Phrase Books
Despite loving internet resources, we are still huge fans of using printed guidebooks to research wherever visit. Learn more about our favorite travel guidebooks & websites.
A small phrasebook can also come in handy if you're not familiar with the local language (but most people in big cities will speak a little English).
---
Electronics Packing List
We travel with more electronics than ever so here's a list of things you might want to bring along.
IMPORTANT: North America and Europe use different voltages (120v vs 220v) for their electronics. So what does that mean for you?

For high-end electronics like phones, cameras, laptops, iPads, etc… it doesn't matter. All you need is a plug adaptor because these electronics are all designed to work at multiple voltages.

However, electronics with heating elements and motors like hairdryers, curlers, straightening irons, hair clippers, etc. aren't designed for multiple voltages so they'll fry if you use them in Europe.

Read our guide to traveling with electronics for more in-depth advice about using electronic devices while traveling.
Outlet Plug Adapters

You'll need a couple of outlet plug adapters for all your electronics. Most of Europe uses the same plug but the UK uses a different configuration. There are dozens of adaptors out there but this affordable plug adaptor set from Ceptics will work fine. They also sell UK, Ireland, and Switzerland-specific versions if you're traveling there.
Travel Power Strip

Many hostels and hotels may only have one or two power outlets per room. That's why we often pack a travel power strip to power our various gadgets. The Belkin Travel Power Strip with USB ports is a well-rated option but there are plenty of other travel power strips on Amazon.
Portable Phone Charger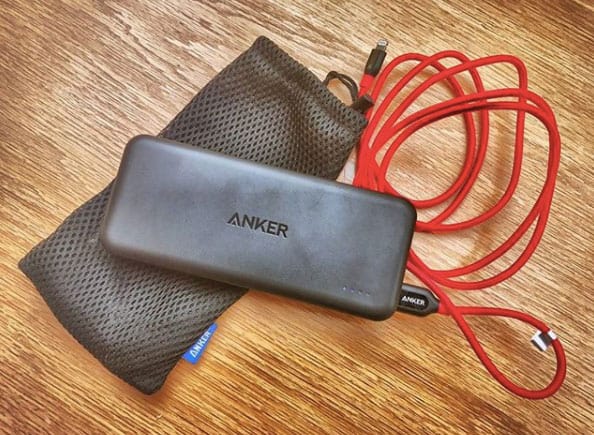 If you're anything like us then you're going to use your phone a ton when you're traveling so you're going to drain your battery before noon. That's why a portable phone charger is a must-have travel item. We use the Anker PowerCore 10000 because it's the size of a deck of cards and is affordable.
Dual Voltage Travel Hairdryer
Standard North American hairdryers and straighteners won't work in Europe — even if you use a voltage adapter. That's because Europe uses a higher voltage than North America. That's why you need a dual-voltage hair dryer. The Revlon 1875W Compact Travel Hair Dryer is a top choice for travelers because it is powerful, lightweight, and foldable.
Don't forget about dual voltage straightening irons and dual voltage curling irons.
Digital Camera
We use our iPhones for a majority of our travel photography but you'll want a quality digital camera if you want nicer photos. We've already written an in-depth article about choosing the best digital camera for travel. Don't forget the extras:
Extra Memory Cards: Pack a few extra memory cards because you don't want to run out of storage space — it's better to have too much than not enough. And memory cards are cheap.
External Hard Drive or Cloud Storage: I've encountered numerous travelers who either lost their camera (along with all their photos on the memory card) or have suffered from a corrupt memory card. It happens way more often than you'd think.

A portable external hard drive is great for backing up all your photos. Another great option is to upload all your photos to cloud storage.
Google Drive is free cloud storage and it gives you 15GB of space. We pay for their premium version to get even more space — especially since we have it synced with Google Photos. The main problem with cloud storage is not having reliable internet access when you travel.

Extra Battery: I always carry an extra battery. Generic versions are cheap on Amazon (you'll have to search for the specific battery that your camera uses).
Tablet or Laptop
We love traveling with our iPads — they're the perfect travel computer. So, unless you really need the full functionality of a laptop, we suggest sticking with an iPad.
Smart Phone
Everyone has a smartphone these days. Here's our guide to the best travel apps if you're curious to know our favorite apps.
Be sure to read our guide to using Data Plans Abroad
Headphones
It's nice to listen to tunes as you travel. Additionally, there are a lot of downloadable audio guides for cities and museums — which are great ways to learn more about the places you're visiting.

We absolutely love our Apple Airpods (not having wires is so amazing). But we still throw in a cheap pair of headphones for flights. We've written more about our favorite travel headphones.
---
Travel Toiletries for Europe

We suggest minimizing your toiletries since liquids are heavy and you can purchase anything you need once in Europe. That said, here is a list of things you might want:
Shampoo/Conditioner/Body Wash: Pour liquids into these small GoToob travel-sized bottles because they won't leak.
Toothpaste & Toothbrush: We travel with a normal toothbrush but add a toothbrush cover. We did find that dental floss was much more expensive in Europe so bring some from home.
Non-Aerosol Dry Shampoo: Dry shampoo is amazing for getting your hair ready when you don't have time to jump in the shower.
Shaving Stuff (Razors & Cream): Razors are more expensive in Europe.
Deodorant: For whatever reason, we find that deodorant in Europe didn't seem to work as well — maybe it was all in my head.
Chapstick w/Sunscreen: Protect your lips.
Contact Lenses/Solution/Glasses: Contact solution can be a pain to purchase since it's often only sold in pharmacies.
Makeup: Bring the basics because it is easy to go overboard (which will weigh down your bag). Below are some basic ideas, but you can decide on what is important to you.

Lipstick (or something similar): Parisian women seem to never leave the house without sexy lipstick. You can also use lipstick as blush.
BB Cream: BB Cream is a great 'all-in-one' product. It's a moisturizer that contains sunscreen and provides light coverage as a basic foundation — it also evens skin tone.
Mascara: Mascara should be changed every three months, so this is a great excuse to buy a new bottle.
Cream Blush: You really don't want to have makeup brushes in your bag, so a cream blush is a great option.

Condoms: You don't want some souvenirs so we suggest buying some now. Amazon seems to have the best price/selection of condoms.
Travel Fabric Freshener: Keep away the funk with travel-sized Febreze To Go.
Travel Toilet Paper: Travel toilet paper is never a bad thing to have in an emergency.
Wet Wipes/Baby Wipes: Cottonelle Fresh Flushable Wipes can be a lifesaver and so they're super easy to pack.
Hand Sanitizer: Who knows what kind of things you'll be touching.
Body Powder: A lot of walking can equal chafing — especially in hot weather. Anti Monkey Butt is great for those hot days.
Foot Cream: Take care of your feet because you'll be walking a lot. O'Keeffe's Healthy Feet Cream will keep your feet from becoming rough and cracked.
Pepto Tablets: Traveling can take a toll on your stomach. Pepto-Bismol tablets are super easy to throw in your bag.
Band-Aids: They're nice to have on hand. A lot of people will develop blisters on their feet so we recommend Band-Aids for feet.
Pain Medicine: Over-the-counter pain medicine is normally only sold in pharmacies so it can somethings be hard to find after-hours.
Prescription Drugs: Ensure you have enough medicine to cover your trip since getting refills can be difficult.
---
Travel Insurance
We recommend picking up some travel insurance — which will help cover your stuff, flights, hotel, train tickets, rail passes, medical emergencies, and more. World Nomads is our top choice but you can check out our guide to buying travel insurance.
---
Where to Buy Travel Gear
Amazon: Our top choice for buying gear is Amazon because they seem to have the best selection and prices.
Zappos: Zappos has a solid selection of travel gear. Their prices are sometimes a bit higher than other stores, but their free super-fast shipping and dead-simple returns are often worth the extra cost.
REI: One is the largest outdoor retailer so they have a nice selection of backpacks and clothing.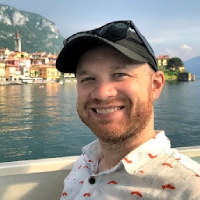 Latest posts by James Feess
(see all)
No Funny Business
The Savvy Backpacker is reader-supported. That means when you buy product/services through links on the site, I may earn an affiliate commission — it doesn't cost you anything extra and it helps support the site.
Thanks For Reading! — James
Questions? Learn more about our Strict Advertising Policy and How To Support Us.